Venom #5 Review: Venom Has Wings Now!
[rwp-review-recap id="0"]
Venom and Spider-Man (Miles Morales) are in free fall. Spider-Man freed himself and Eddie from Knull, but he's out of web and without a means of slowing their descent. Somehow, Eddie's symbiote sprouts wings, leaves Miles on a rooftop, and Venom has a very confused conversation with himself. The symbiote reveals how it gained this new ability, and the two pay another visit to Rex.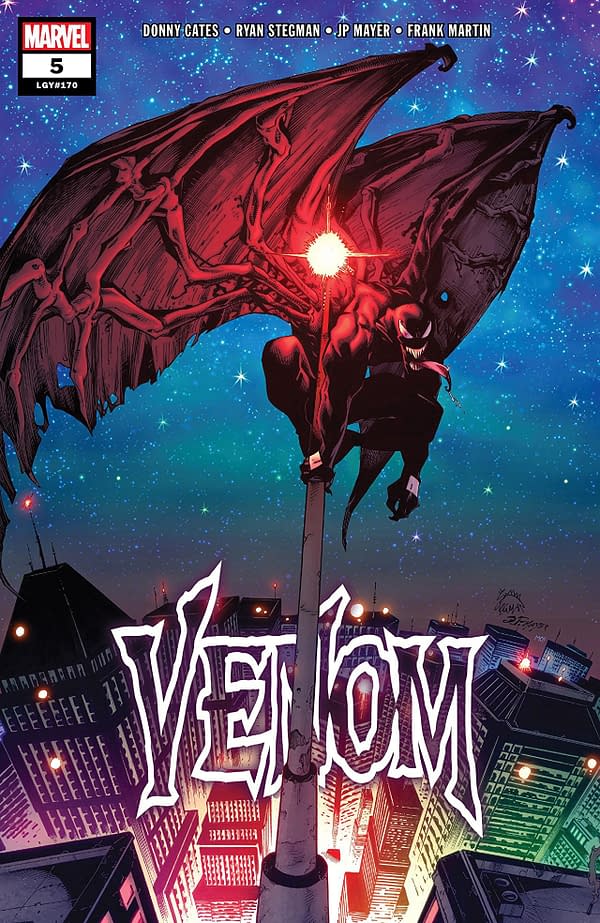 Venom #5 has the least going on out of all of Donny Cates's issues so far. It sets up a new status quo for Venom's powers, but it doesn't advance the story far. There is a dramatic revelation about Rex, but we don't know this guy that well yet. Also, it feels like a setup for the cornily named Ve'Nam series coming up.
That said, it's still not a bad book. Venom growing wings is pretty damn awesome, I'll take what Miles Morales material I can get at this point, and the confrontation between Eddie and Rex is interesting.
If nothing else, it's in and out quickly too. This isn't a strenuous read, and the pacing is deliberately quick as if to get all this info out in one comic before the next showdown between Venom and Knull — sort of like an intermission. I can't really fault it for that.
Ryan Stegman continues to make this a visually stunning book too. I remember criticizing his work on Venom Inc. and feel a bit silly for it now. That said — good grief, Eddie's eyebrows are still nuts. Regardless, he makes a winged-Venom look as awesome as it sounds. JP Mayer gives the comic a good inking treatment, and Frank Martin's color work is an ominous mixture of deep blacks and blood reds.
Venom #5 is the least exciting issue of Cates' tenure so far, but it's still a solid read. We learn a little more about the symbiote, Rex, and Knull, and Eddie has wings now — so that's objectively awesome. This one comes with a recommendation. Check it out.
[rwp-review-ratings id="0"]
[rwp-review-form id="0"]