Writer's Commentary – Blood Queen Vs. Dracula #3 With Troy Brownfield
Blood Queen vs. Dracula #3 Writer's Commentary By Troy Brownfield
Greetings and welcome back! Nice to see you all again. I'm Troy Brownfield, writer of Blood Queen vs. Dracula from Dynamite. We're here to talk about issue 3, which comes to you from me, artist Kewber Baal, colorist Kirsty Swan, and letterer Marshall Dillon. Let's go!
Overview: At the outset, I told Kewber that I wanted this issue to play like a horror film. Not that there aren't those elements in other issues, but that I specifically wanted to capture the feel of an "all-forces-against-me" kind of approach with Elizabeth as the "Final Girl". I also referenced the sort of work done by Italian horror directors like Lucio Fulci and Dario Argento in terms of sensitivity to light and shadow and so on.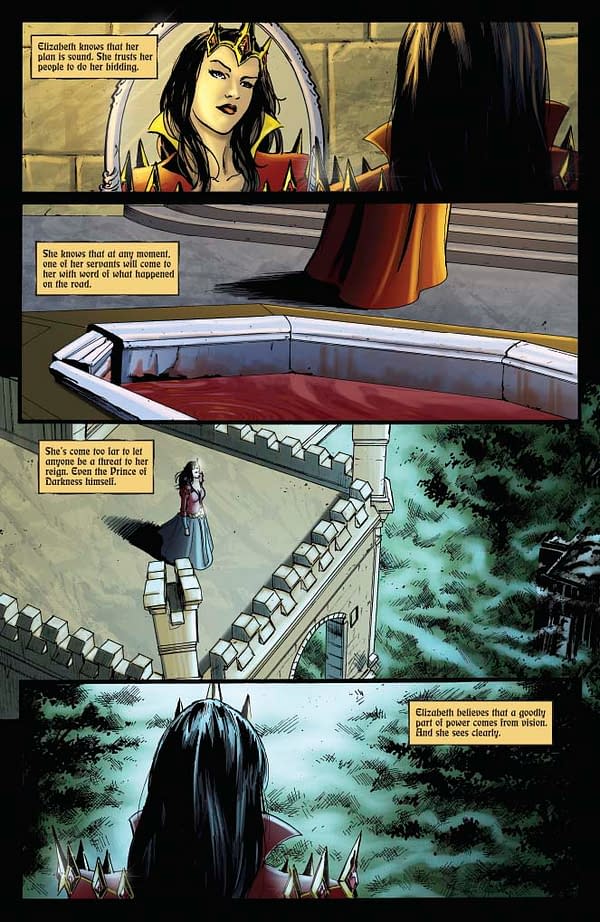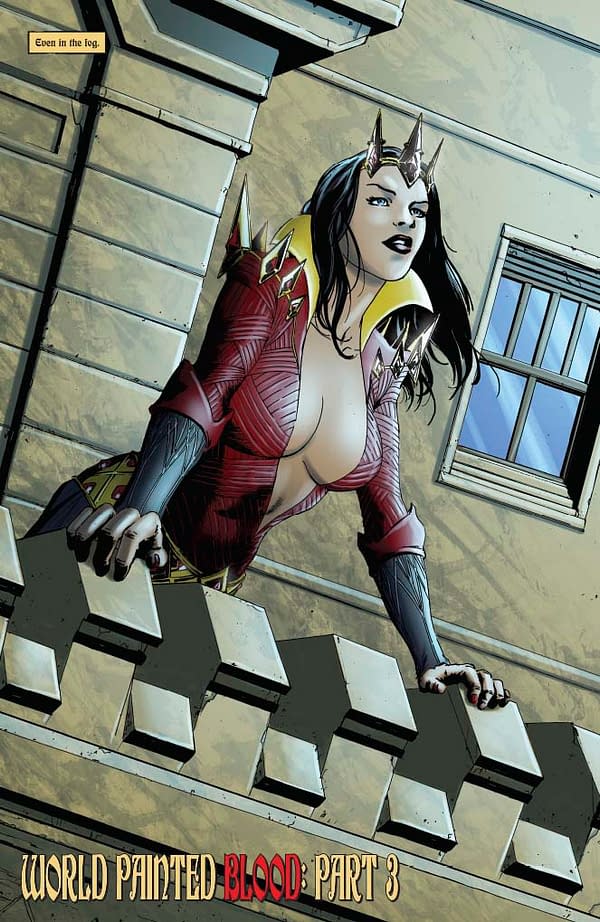 Page 1 and 2 – Elizabeth is a little too content, and she's about to pay for it. If we go back to the close of the first mini and the time that passed before issue 1 of this series, our Blood Queen has gotten her way the vast majority of the time. She's fully believing that her people handled Dracula. Oops.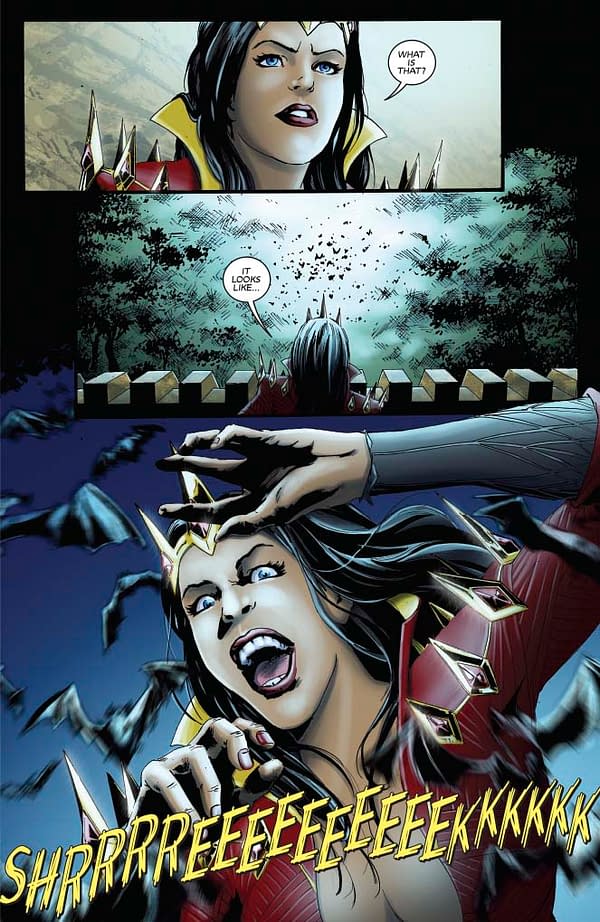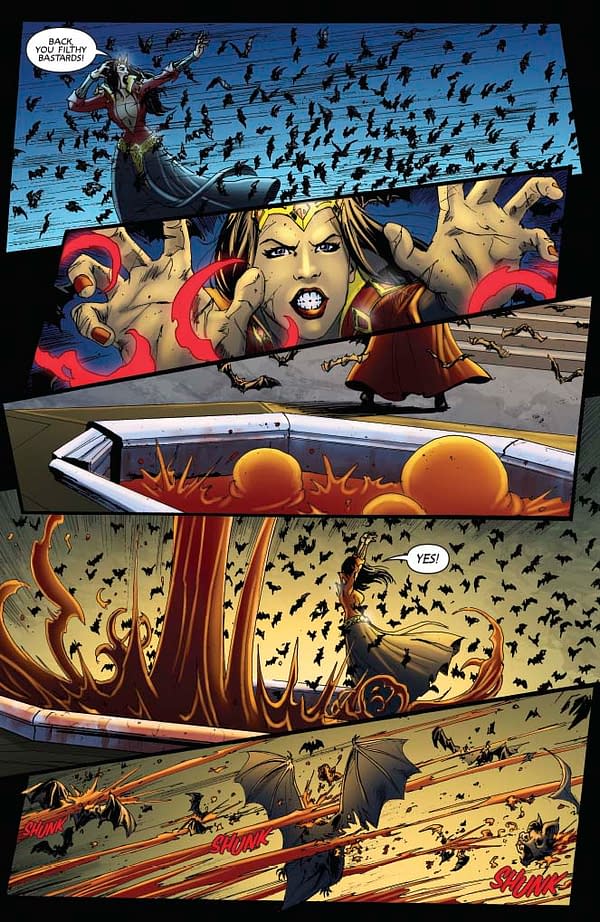 Page 3 and 4 – I always had the idea that this issue would feature a series of running attacks on Elizabeth. Dracula's using different approaches to unsettle and/or defeat her. The whole "swarm of bats" attack is really psychological in nature. Dracula's certain it's no real threat, but he's going for the overwhelming theatrical impression of it. He's DRACULA, for God's sake.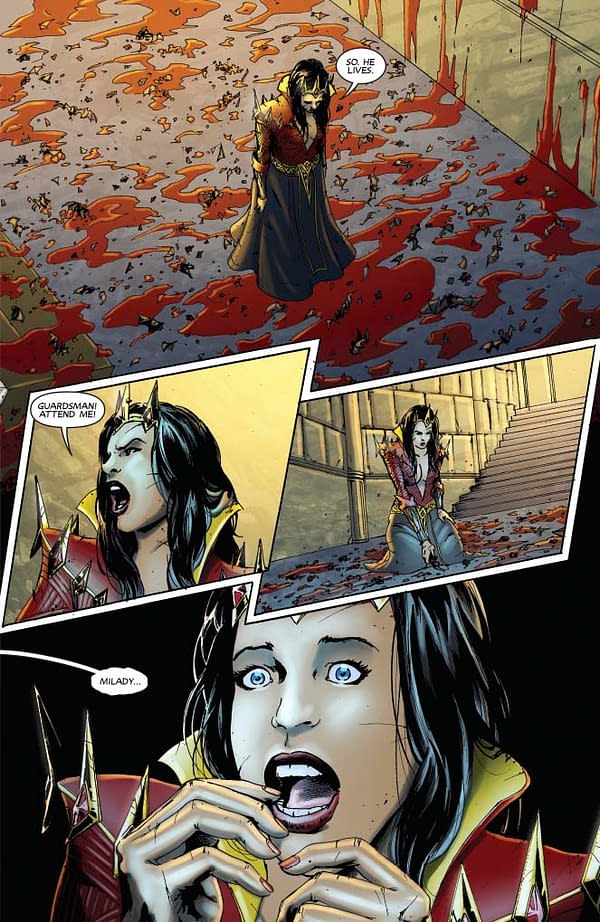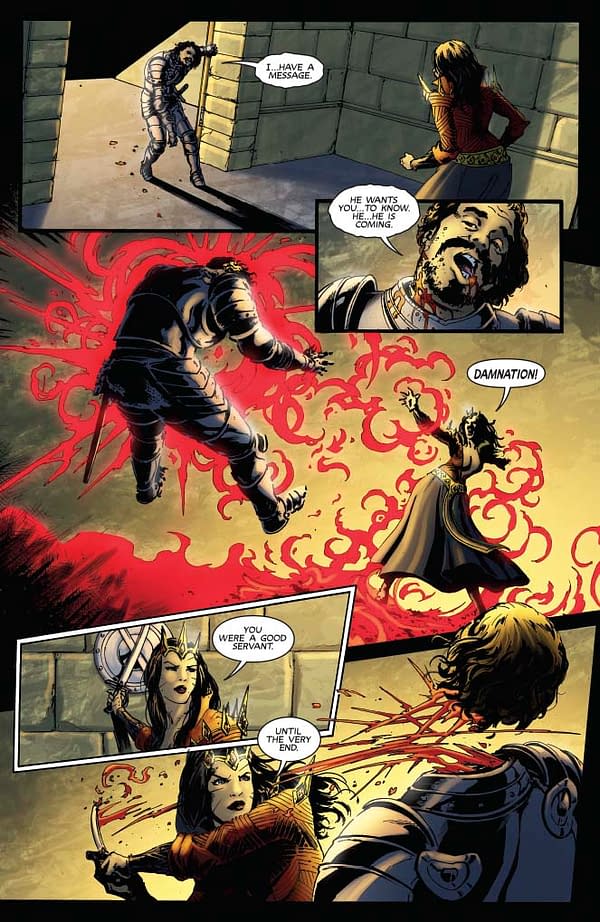 Page 5 and 6 – It is indeed within Elizabeth to care about her servants. Granted, that's primarily because they're HER servants. However, she doesn't want to see them die at someone else's hands. Dracula works heavily on this approach, partially because it winnows down potential opposition.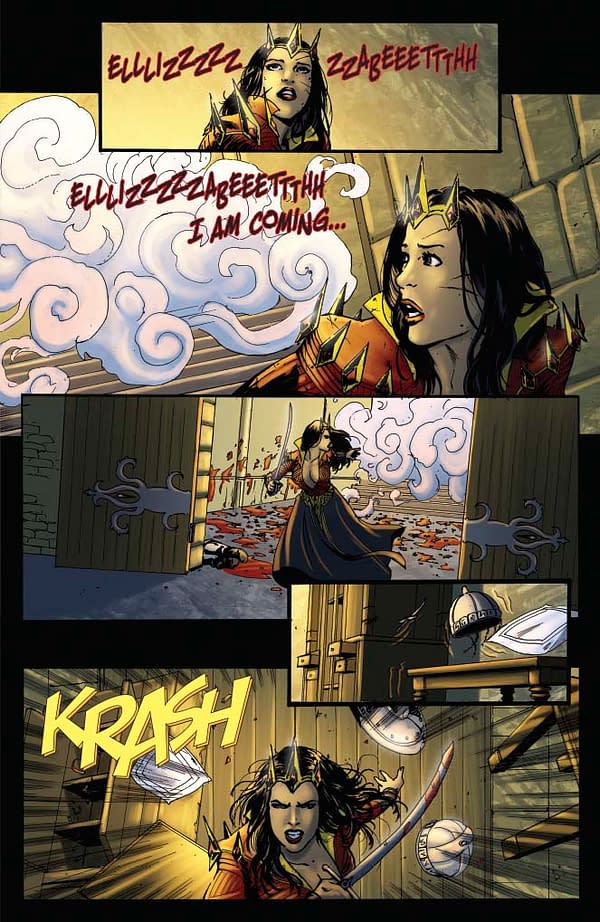 Page 7 – This is another one that's more on the psychological side . . . Dracula's propensity for whispering from the mist. That will ruin your whole day.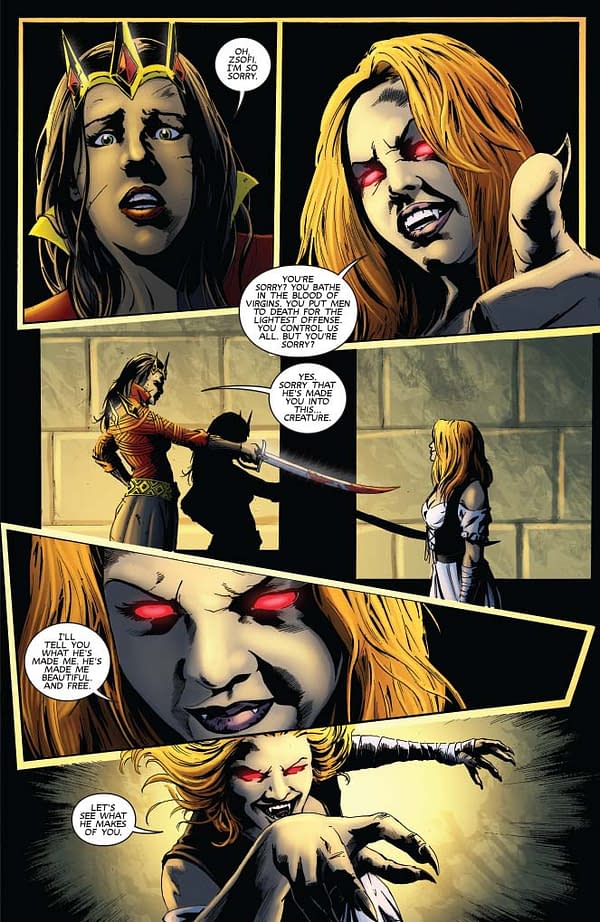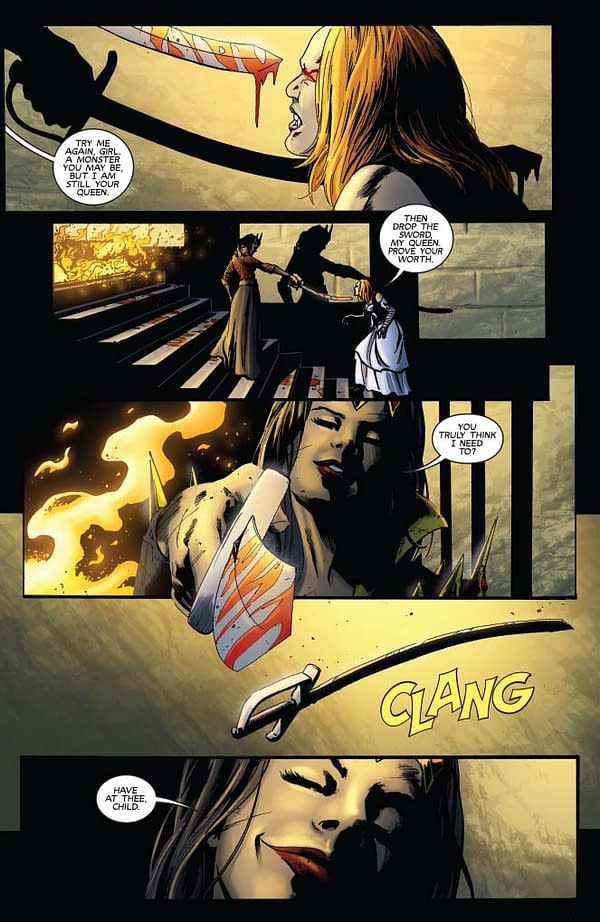 Page 8-9, 11-16: We'll come back to 10 in a moment. This sequence is the real centerpiece of the issue. Another clear vision I had from the start was Elizabeth fighting the twins on the stairs as they emerge from shadow. Kewber and Kirsty really nailed it. This demonstrates how tough Elizabeth really is, especially when she seems overwhelmed. Her character is a survivor, and that's backed up here.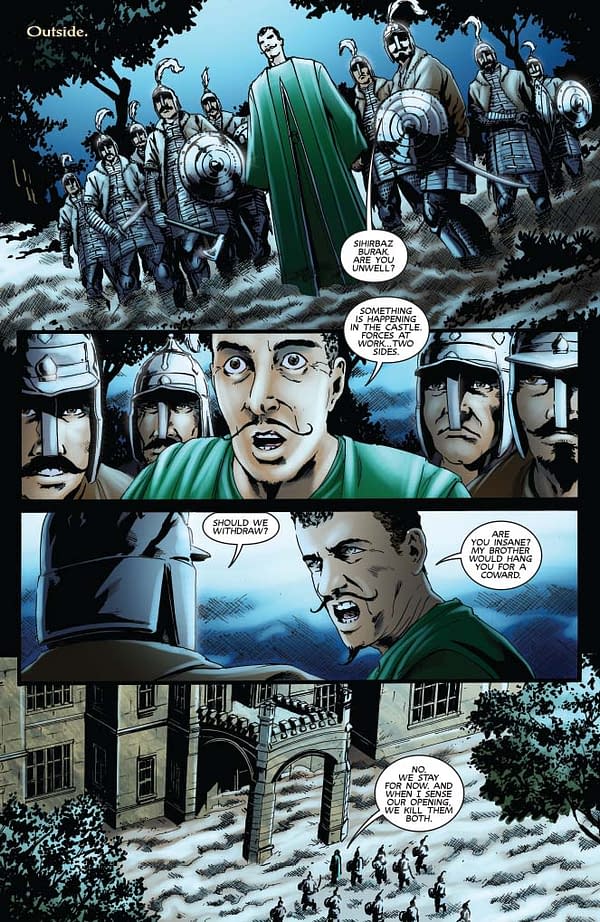 Page 10 and 17: Checking in with the Ottomans. I won't say much about that mission right now. Check back in #4.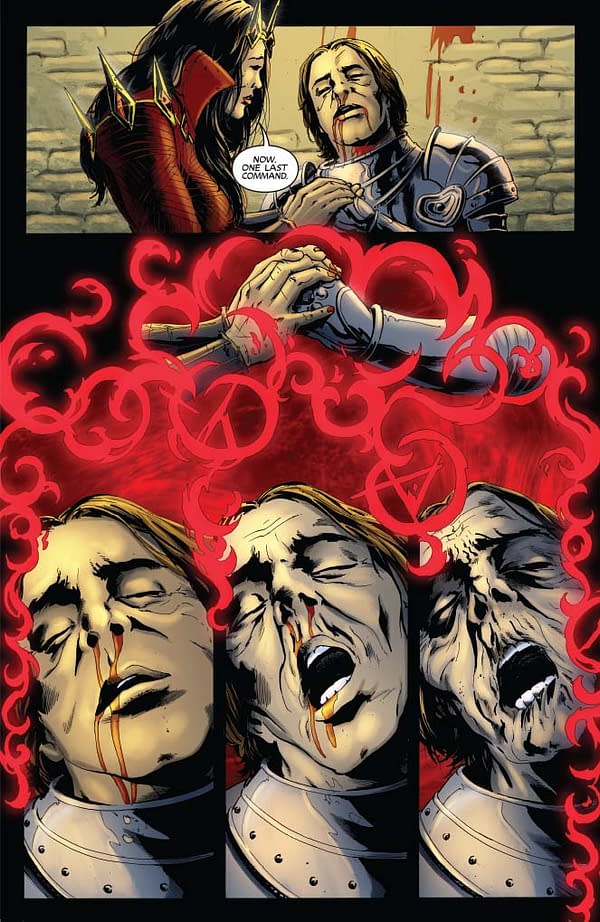 Page 18-22: Here's where we see a little more humanity from Elizabeth. It's not a lot, but the demise of Gustav and her taking of his lifeforce does give us a glimpse that she's capable of caring. Things have been building through the story, and she's now completely ready to take on the Count. However, he's got one more trick to throw at her, and that's his seductive mind control. Does it stick? That's what the new issue is for . . .
Thanks again for reading! Check out Blood Queen vs. Dracula and the other fine Dynamite titles.