X-Men Gold #25 Review: X-Men Unite in Fun One-Off Issue
The god-beast Scythian Algurus returns to wreak havoc upon Paris. Captain Britain and Meggan respond immediately. Iceman's X-Men team arrives not long afterwards. However, the main Gold team is still in prison and can't join the fight, but that problem may resolve itself sooner than later.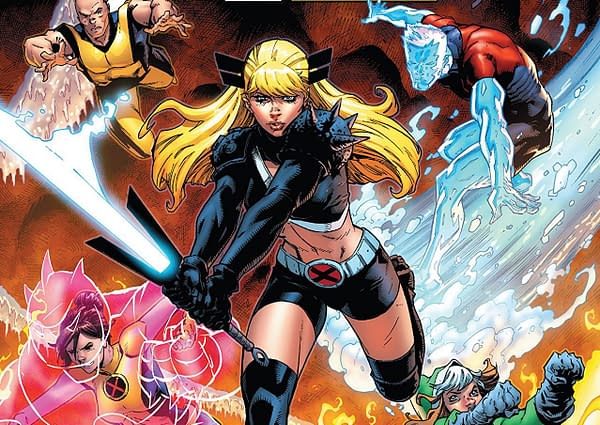 X-Men: Gold #25 presents a pleasingly straightforward story which manages to accomplish a fair amount without much digression.
Even the prison-break plotline boils down to, "Hey, there is a giant god-monster destroying Paris, plus Storm is pissed. You just need to let us go."
You know what, fair enough. That's not especially farfetched.
Much of the comic are the two teams of X-Men plus Captain Britain and Meggan fighting a giant god-monster, which is just pretty damn cool.
The pacing is brisk too. This story could have been decompressed to a few issues, but it all wraps up in this installment. That is likely to make room for the wedding-centric issues to come, but it still resulted in an enjoyable issue here. As a result, I can't complain.
The X-Men this book unites is a bizarre crew too, which I generally enjoy. There is a subplot with a random piece of X-Men history related to Storm which just feels like a, "Hey, remember this?" It comes off as unnecessary, even if it is kind of cool. If it pops up again next issue, then maybe its presence can be justified.
The defeat of Scythian is presented oddly. He disappears with no transition. He's just there, and then there is a crater. The plot to bring him down is complicated, so I'm not entirely sure what happened to him. He might have exploded/been teleported.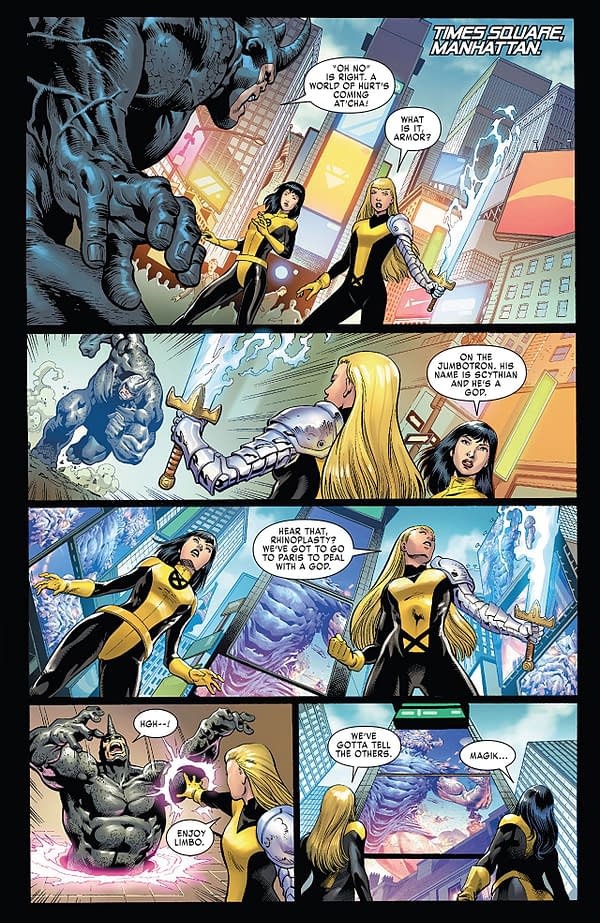 Paulo Siqueira and Jose Luis split the art for this book, and both artists put in great work. They meld together well, and the comic is gorgeous for it. The scenes are detailed, the X-Men look great, and Scythian looks really damn cool too. Cam Smith and Victor Olazaba provide good inking work, and Arif Prianto, Java Tartaglia, and Juan Fernandez contribute some solid coloring.
X-Men: Gold #25 is a fun one-off issue for the series. It brings back a fairly obscure villain and unites the teams of Gold in a big boss battle-style showdown. The art team does some great work to boot, and I can recommend this one. Check it out.