A Purple Fortnite Themed Xbox One S Has Been Leaked
It looks like another cool item that may have been revealed at E3 just got leaked as a purple Fortnite-themed Xbox One S is out and about. The news comes to us from German-based gaming website WinFuture, who posted the (self-watermarked) images you see here with a Gradient Purple look to it and a special purple edition of the game included with a couple of in-game exclusives. According to the website, who did not name their source on the matter, this special edition is set to come out in Europe and North America sometime in the next few weeks and will be sold at $300.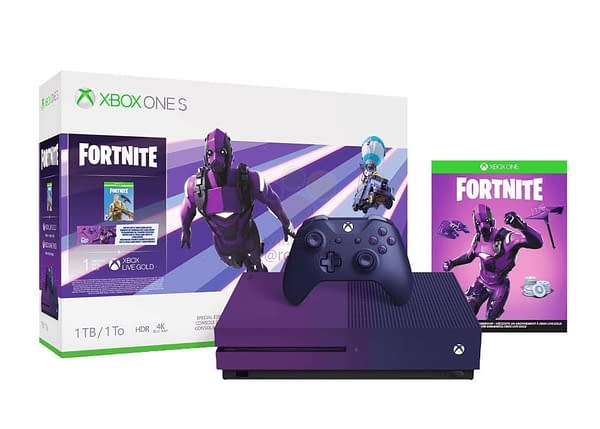 It's a pretty cool looking Xbox, but we're also fans of the color purple when it's used right, and this looks like a console that would be sitting in Prince's home if he were still with us. Considering the timing, this appears to be another possible E3 reveal for either Epic Games or Microsoft that just got blown out of the water. It wouldn't surprise us at all if Microsoft in-particular was planning to reveal it during their E3 press conference and make it available that week for purchase. We'll see if the Fortnite bundle comes out sooner than that now that the word is out, or if both companies will keep their plans and move forward with whatever release schedule they had planned.