Activision Blizzard Announces Record First Quarter Thanks to Player Engagement Activision Blizzard has released their combined first quarter earnings report for fiscal year 2018, with the quarter ending on March 31st, 2018. The company announced a record first quarter of sales, which they credit to the immense amount of player engagement in their many franchises, but with an emphasis on Overwatch and Call of Duty.
"Activision Blizzard had another strong quarter, growing year-over-year, setting top and bottom line records, and over-performing guidance. Our continued ability to set new records speaks to the quality of our teams and the breadth and enduring nature of our portfolio of franchises against the backdrop of a large and growing interactive market," said Bobby Kotick, Chief Executive Officer of Activision Blizzard. "As we look ahead, our innovative core gaming pipeline, as well as initiatives like mobile, esports, and advertising, will continue to drive growth for our business."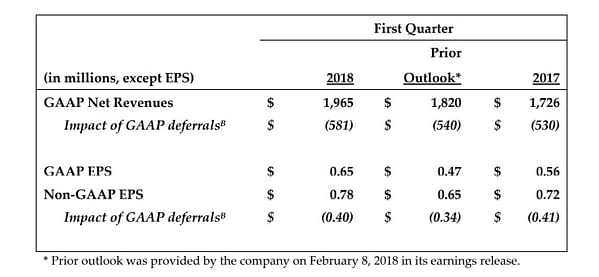 As you can see in the chart above, Activision Blizzard's net revenue for the quarter were a record $1.97 billion USD, which was higher than the expected revenue, and quite a deal higher than 2017's $1.73 billion. GAAP net revenues from digital channels were an all-time quarterly record of $1.46 billion, with a GAAP operating margin of 30%. The company's operating cash flow was a record of %529 million for an increase of 29% year-over-year.
Basically, Activision Blizzard's sales were incredibly high this quarter, mostly through digital revenue streams, despite not having any large content releases during the quarter. As the financial report states this illustrates "the enduring nature of [their] franchises and [their] shift to a games-as-a-service model." The live service model for games has been steadily taking over the mainstream, with Activision Blizzard leading the pack on that front. Given their financial results, its no wonder this game model is starting to take hold elsewhere.
The company indicates their massive audience reach as part of their success, as Activision Blizzard had 374 million monthly active users during the quarter. The breakdown by publisher is also pretty indicative of current gaming trends — King, the company's mobile publisher, had 285 million monthly active users, with daily time spent per user at record levels; Activision had 51 million monthly active users as Call of Duty grew its audience year-over-year with players picking up games across the franchise, but most notably in the latest iteration of the series, Call of Duty: WWII; Finally, Blizzard had 38 million monthly active users with World of Warcraft over-performing compared to the prior expansion, with higher engagement sequentially and a strong community participation for in-game purchases and pre-orders for the upcoming Battle for Azeroth expansion. Hearthstone and Overwatch also received notice for continuing to grow their audiences with strong engagement levels.
In addition, the company noted The Overwatch League and Call of Duty World League for strong global viewership and engagement for the franchises overall.
However, mobile publisher King was the one to bring in the most money for the company with the highest quarterly net bookings in its history, as they were up 3% quarter-over-quarter and up 13% year-over-year. King is currently at its highest sales numbers since Q1 2015 — the quarter just after the release of Candy Crush Soda Saga. King's games continued to be two of the top-10 highest grossing titles in US mobile app stores for the eighteenth quarter in a row with Candy Crush Saga and Candy Crush Soda Saga coming it at ranks 1 and 2 for the second quarter in a row.
As for the future — Activision Blizzard are modestly raising their full-year outlook for the rest of 2018 based on the strong results they took home after Q1, and they expect their revenues and operating income for 2018 to be more influenced by the last six months of operating results. This essentially means they expect the second half of 2018 to impact their end of year earnings more than the first half of the year, which is pretty much the standard games business model.
Overall, it's been a good few months for Activision Blizzard, but especially on the mobile side of things as mobile gaming continues to rake in sales to a ridiculous degree. That said, it's been good for Call of Duty, Overwatch, and World of Warcraft, which are Activision Blizzard's biggest franchises, and that generally means it's been a good year for a lot of gamers.