[rwp-review-recap id="0"]
For fans of the Gundam series, getting a decent Gundam title in the U.S. is like waiting for a full moon. They come around every once in a while, but the majority of what you see are games that are only kinda good. There's a handful of titles that could be considered the best, like Senjou no Kizuna or Extreme Vs. Full Boost, but the rest of the series kinda starts to downgrade from there. So how does Gundam Versus stack up? Bandai Namco gave us a copy to review, so we threw on the suit and took to the skies.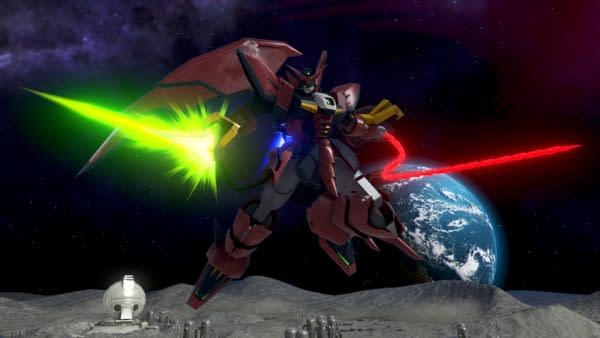 Gundam Versus is a fighting game that has practically every major Gundam character you've ever known from the series' origin to modern day canon. (Not all of them, sorry G Gundam fans.) There's not a lot of build-up or reasoning to the fighting, the game is basically one giant excuse to have all of your favorites duke it out, with nearly 100 total suits to choose from. Normally with a fighting game, your average gamer could jump in and button mash for a bit and have some fun before learning real skills to beat the game. In Gundam Versus, the tutorials are a must-watch. There's a lot of mechanics behind movements, flight, timing, striking, and weapons use that you're not going to pick up five minutes in. Once you get the basics in, you can head in and choose your fighter. Something that caught me off guard is that every suit operates differently. There's no cloning fighting styles like you would find in games like Marvel Vs. Capcom or Mortal Kombat, everyone moves at their own speed and pace with various attacks that don't operate on two characters. This is both awesome and crippling at the same time: awesome because you can learn your favorite and get their attacks down pact, but crippling because it would take a LOT of work to learn every single character and how to utilize them. The suits are divided up by series so you know who to find and how to best utilize them for this specific brand of combat when going up against a boss or an opponent. You get 1,000 points to use as credits to buy suits needed to compete. So if you use a Gundam that costs 300 points, you got three lives and some change. If you use one that costs 250, you got four lives. This becomes part of the strategy as you have to figure out what works best for you as a fighter and what will work best in the game for you to win. There's no reward without risk and every scenario is different. The primary focus of Gundam Versus is online play. In fact, you'd say it's pretty much the entire purpose of the game. You can fight in several modes with and against opponents, but there's no story and little narrative interaction between people beyond the character's inner commentary. The servers have not improved that much since the time of launch until now, meaning there are a lot of moments where the game will lag out depending on people's connections and you could find yourself hitting nothing at all. And good luck blocking because half the time you use it, it is ineffective. Another problem that came up frequently online was the camera, which is fixated on whoever you're targeting and gives no leeway for adjustment or checking out conditions around you or possibly other enemies coming for you. I get it's supposed to be from the view of the suit, but this is a game, not true-to-form Mechwarrior fighting, so give me some rotation. Overall, Gundam Versus is yet another title in the series that's just "okay" at best. If you're a nostalgia fan who also likes fighting games, this will be your jam. If you're a casual Gundam fan, you might dig it. If you're a hardcore fan and you expected this to be the end-all-be-all to Gundam fighting games, you're going to be a little disappointed. Take the game with a grain of salt and realize that if you're not into online play, there isn't much else you can do with it beyond fighting against your friends in versus mode.
[rwp-review-ratings id="0"]
[rwp-review-form id="0"]
Enjoyed this article? Share it!