Ark: Survival Evolved is getting the pixel block treatment with a new game called PixARK and it's out soon.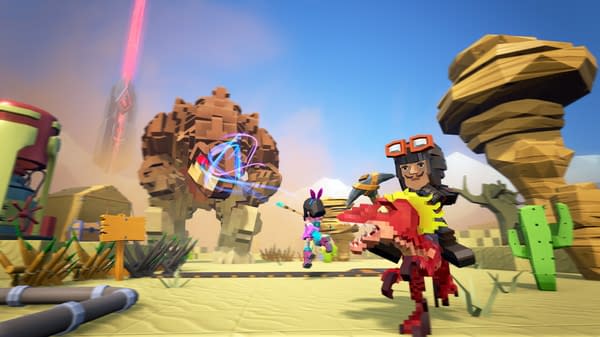 Ark is my most played game on Steam. The game sits pretty at several hundred hours of play time, at one point becoming a real obsession for me and my group of friends. It's why I'm always excited about what's happening around the game. While my prime time with the title is almost certainly over, I'll always pop my head back in to see what it is doing. On that note, this latest announcement certainly has me intrigued.
It's been announced that PixARK is coming to Early Access in March on Steam and Xbox One, an officially licenced spin-off of the main game, only this time, it is a bit Minecraft-y. It's not being developed by Studio Wildcard, the developers of the Ark, but instead Snail Games. The game will see a lot of Ark's DNA passed down to it with crafting, taming, training and all those things you associate with the series, but it will see a fairly radical makeover and shift. 100 creatures will be making it to the game too, so there will be plenty to interact with. Here is a trailer for the title:
Ark has become so large at this point, it's had so many different little side projects. While its esports venture Ark: Survival of the Fittest didn't exactly turn out all that great and we are still waiting on Ark Park, I can see the potential in this one. I'll be very interested to see how exactly this plays and what it brings to the table past just the pixelated look. Here's hoping there is a great little title in here.
Enjoyed this article? Share it!