Baby Groot is getting a second Life-Size figure release from Guardians of the Galaxy Vol. 2. This version is from the beginning of the film where he dances through the opening credits/battle to ELO's "Mr. Blue Sky". He has not a care in the world, as evidenced by the grin on his face here. There was another life-size version released from the film previously in a Ravenger suit. He even comes with a pair of speakers you can pose him around! Baby Groot will be available to preorder soon and ships in late fall/winter this year.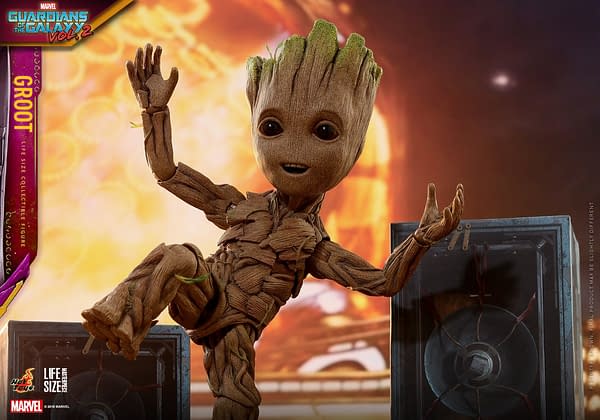 "I am Groot!"

Being one of the most adorable superheroes among Marvel Studios' productions, Baby Groot from Guardians of the Galaxy Vol.2 has drawn tremendous attention across continents after the world premiere. The tiniest Guardian is a vulnerable one with quite a lot to learn from his oddball cosmic family, and he has emotions as well as moments of failure. Today Hot Toys is delighted to present fans the eagerly awaited must-have life-size collectible figure.

The extraordinarily movie-accurate life-size collectible figure stands approximately 26cm tall with a newly developed body and expert paint applications to reflect his unique appearance and a beautifully designed packaging to recreate the scene with him dancing along with music in the very beginning of the movie.

Guardians of the Galaxy Vol.2 fanatics surely can't pass up on the opportunity to have this wonderful collectible figure in your display!

Special features of the Groot Life-Size Collectible Figure:

– Authentic and detailed likeness of Groot in Marvel Studios' Guardians of the Galaxy Vol. 2
– Newly painted head sculpt with highly detailed facial expressions and tree texture
– Approximately 26cm tall
– Newly developed specialized body with over 15 points of articulations
– Each piece of face sculpt is specially hand-painted
Enjoyed this article? Share it!