Bleach: Brave Souls Makes Its Way Over To The PS4
KLab Inc. announced this morning that they'll be bringing their hit anime mobile title Bleach: Brave Souls over to the PS4. The game has over 55 million downloads across iOS and Android, bringing the popular anime series to a new audience with an interactive story and fun challenges. Now PS4 players will get to experience the game as well, along with the introduction of the game's official Discord channel. A release date hasn't been set for the PS4 version yet, all we know is it will come out sometime later this year.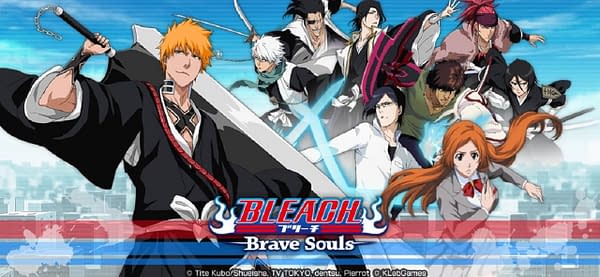 Bleach: Brave Souls is free to play and supports a total of seven languages: Japanese, English, French, Traditional Chinese, Simplified Chinese, Korean, and Thai. Experience the world of the mega-hit anime, manga, and novel series Bleach! Build teams with your favorite characters from the 13 Court Guard Squads, the Espada, Xcution, or the Stern Ritter and join the fray! Relive the epic Bleach story from the moment Rukia and Ichigo first met, then delve deeper into the world of Soul Reapers with original stories from the anime, the Bleach movies, tie-in novels, and more! Unleash Ichigo's Getsugatensho, Aizen's Kyoka Suigetsu, Byakuya's Senbonzakura Kageyoshi, and all the other epic Bleach moves, all fully-voiced by the original Japanese voice actors with amazing animations! Then feast your eyes and ears on the many original special moves unique to Brave Souls!

3D graphics and simple controls make for free-flowing and fast-paced hack-and-slash action. Play alone, or gather up to five friends for intense online co-op quests and raids! Brave Souls features a highly flexible character improvement system that allows you to create exactly the warriors and the team you want. Create never before seen combinations of characters and then take your best teams online to combat other players!