Call of the Sea Brings Puzzling Island Adventures to Xbox Series X
During the Xbox third-party showcase for Xbox Series X, Out of the Blue's dazzling Call of the Sea made its debut, with a colorful trailer to kick things off. Set in the South Pacific in the 1930s, it's all about a woman in search of her husband's missing expedition – but nothing is as it seems, which may be obvious from the somewhat spooky glimpse we got of the game as our first introduction.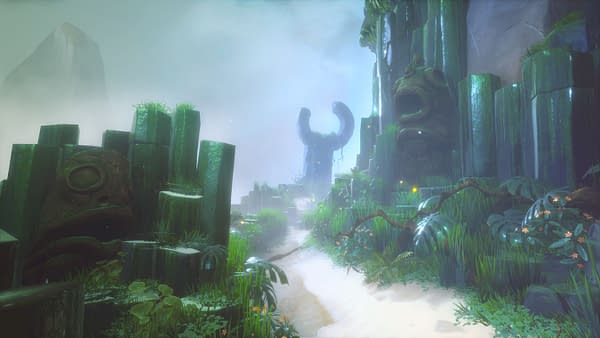 Published by Raw Fury, Call of the Sea follows Norah (voiced by Firewatch's Cissy Jones) across the lush tropical island paradise, and it utilizes a first-person perspective. Much of the game will be spent searching the island Norah finds herself on, as she explores "fantastic sights, lost ruins, and occult mysteries." You'll have to work to piece together exactly where your husband has gone while also being (very likely) disturbed by "surreal surprises."
With bright greenery and absolutely beautiful, vivid coloring, a strange mystery is about to unfold, but what does it all mean? It's hard to tell at this juncture, as we simply don't have that much information about what to expect from the eye-popping new adventure. Calling it now, though: It probably involves some sort of island cult who has stolen away your husband, or he's a part of it all.
Apart from all the conjecture we do know, however, that Call of the Sea is headed to both Xbox Series X and Xbox One as well as PC in late 2020. It's also coming to Xbox Game Pass at launch. That means we can live out our island fantasies without having to pay an arm and a leg. Unless you lose a limb in the game. Then that might be the case.