Dead or Alive 6 Is Downright Enjoyable and Less Sexualized
Koei Tecmo Games was showing off the recently announced Dead or Alive 6 at E3 this week and the game was downright enjoyable, which surprised me. I'm not much of a fighting game fan, and the Dead or Alive series tends to be my least favorite for reasons that should be obvious. Other than Super Smash Bros., which only loosely resembles a fighting game, I haven't dedicated much time to the genre since my old arcade Street Fighter days.
Despite being newly announced, Koei Tecmo and Team Ninja's Dead or Alive 6 was fully playable at E3 with a limited roster of only four playable characters. That said, all four were very different in type and feel, which at least made the selection balanced, if nothing else. Fellow BC Games Writer Gavin Sheehan and I went head to head during our demo appointment, with some pretty interesting results. As in, I managed to win our best-out-of-three match. You can check out Gavin's impressions of our matches here.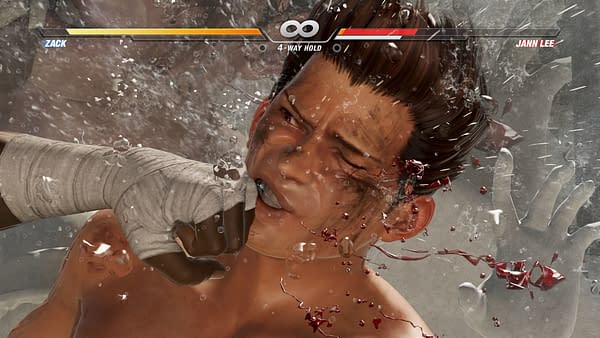 While I was shocked to do relatively well in the game, I was mostly surprised at how easy it was to pick up the gameplay mechanics. I haven't played a Dead or Alive game in more than a decade, so a lot of things have changed — including the fact that characters show hit damage over the course of a fight. You know, like a real person would.
Now, fans of the franchise will be saddened to hear that the game will not have any comeback mechanics, nor will it feature any Venus Vacation Days characters. And while the costumes are destructible in DoA 6, the over-sexualization of female characters is pretty massively toned down for this version. Sure, both female playable characters in the demo, Kasumi and Helena, are wearing rather tight-fitting costumes, but they are pretty much fully clothed. Kasumi's default costume has been totally reworked and is more of a catsuit with kitten heel sandals than a barely-there scrap of blue fabric. And sure, there's some boob jiggle physics, but not as much as we'd normally see in a DoA game.
Dead or Alive 6 is an attempt to bring the franchise back into the world of competitive fighting, which means adhering to the overall trend of de-escalating female character sexualization and moving to a more realistic approach. We can kind of applaud them for that.
While I may have walked into the Dead or Alive appointment expecting to walk away with my eyes rolling in the back of my head, I walked out pleasantly surprised by the gameplay and the reworked character models.