Deceive Inc. Releases Free Demo With Launch Set For Late March
Try out a free demo of Deceive Inc. from Tripwire Interactive for Steam Next Fest before the game comes out next month.
---
Tripwire Interactive has published a free demo for Deceive Inc. today as part of Steam Next Fest, along with the official release date. Right now, you can play the game in a limited form for the next week as the team is preparing to release the game. Which they have confirmed will be on March 21st, 2023, for PC via Steam and the Epic Games Store, as well as Xbox and PlayStation consoles. You can read more about the demo below and check out the latest trailer for the game.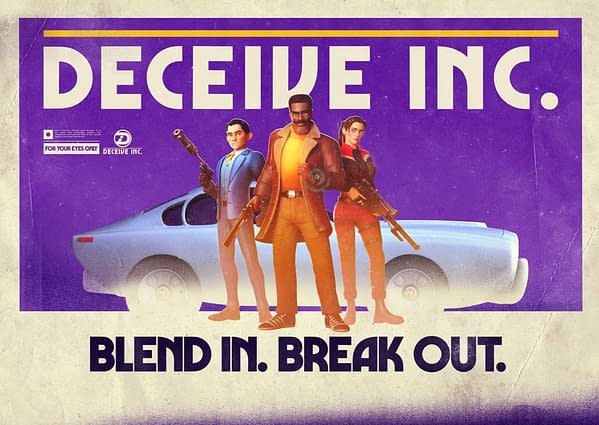 Players ready to start their career as a world-class Agent can look forward to diving into the world of Deceive Inc. early, starting with a free PC multiplayer demo on Steam during the Steam Next Fest from Feb. 6 through Feb. 13. In addition, the developers at Sweet Bandits Studios have prepared even more early access spy training time with the upcoming Deceive Inc. Open Beta, featuring cross-platform support. The Deceive Inc. Open Beta is scheduled to run from March 10th at 2 pm ET through March 13th at 11 am ET, and will be available to play for free on all platforms that the game will support at launch. Learn more and join the Deceive Inc. community on the official Discord.
New players can expect hands-on time with all eight launch-day agents while they explore and master the art of espionage on two multiplayer maps: "Hard Sell" and "Silver Reef." Hard Sell takes place at a luxurious mansion on a private island next to the Mediterranean Sea. Offering a mix of wide-open courtyards and close-quarter rooms, Hard sell features a little bit of everything that Deceive Inc. has to offer. Silver Reef pits players against each other deep under the North Sea in an underwater luxury resort. Players will navigate glass tunnels, luxury restaurants, and guest rooms to hide from their opponents. To get the objective, agents will have to infiltrate a high-tech submarine docked at the hotel, which offers a close-quarters feel for those agents who enjoy a healthy dose of action while they're in the field.