DeNA Games Announces a Western Release for Attack on Titan: Tactics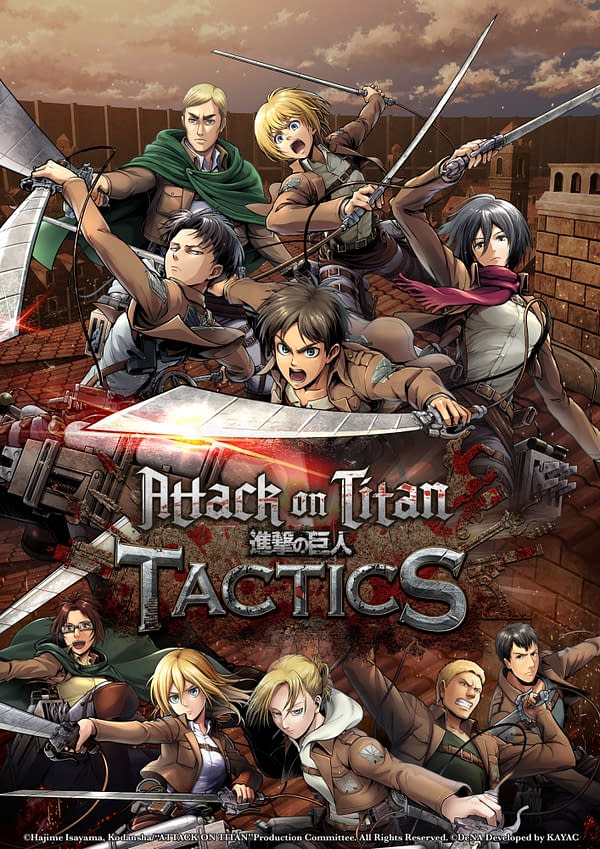 DeNA Games has announced a new officially licensed app based on the popular Attack on Titan anime series. Called Attack on Titan: Tactics, the mobile RTS game is available now in Japan and will release this summer in the United States, Canada, and Australia.
Attack on Titan: Tactics is a free-to-play real-time strategy mobile game where players are tasked with building their own elite Scout Regiment to drive away the fearsome Titans. The game includes three main modes: Story, Character Episodes, and Events. The Story mode covers season one of the anime and will launch with season two soon. Character Episodes feature original stories developed with input by Attack on Titan author Hajime Isayama and Kodansha Comics. The Events will offer limited-time content like holiday-themed events, which will also feature original stories.
At launch, Attack on Titan Tactics will feature 38 different characters, including fan favorites like Eren, Mikasa, and Levi. The characters will be voiced by the original anime voice actors, who recorded their lines exclusively for the mobile game, so it's not just re-purposed anime dialogue. Each character has different roles, leader skills, abilities, and special skills. Players can create their own personal "deck" of character units as they learn their characteristics.
Additionally, Tactics will include the anime theme songs by Linked Horizon, so fans of the anime will get to relive the full experience. Season one opening theme "Guren no Yumiya" and season two opening theme "Shinzou wo Sasageyo!" will both be featured in-game.
In even further anime-based news, Crunchyroll will be helping support Tactics as the official marketing partner.
"DeNA is excited to launch our officially licensed game app based on the popular anime series, Attack on Titan," says Shigenori Kobayashi, the Producer of the Attack on Titan: Tactics. "With a real-time battle system that's easy to pick up and play, must-see battle animations, gorgeous character illustrations, and original stories, we're confident that anime fans and gamers alike will love this strategy game."
Attack on Titan Tactics is now available on the App Store for iOS devices and Google Play for Android devices in Japan. Players in North America and Australia can pre-register for the game here.
You can check out the official announcement trailer below.
https://youtu.be/pO99JT32R0Y