 EA released their earnings report for the first quarter of fiscal year 2018 this week, which credits their "outstanding" success on the profits earned from Battlefield 1, their numerous Star Wars titles, and their massive EA Sports portfolio. Specifically, CEO Andrew Wilson said during the earnings call, "Q1 was an outstanding quarter, with thriving player communities in our top franchises like Battlefield, our EA SPORTS portfolio, Star Wars, and The Sims continuing to grow our network and drive our digital business. We have built strong momentum, and now we are accelerating into a year of tremendous innovation, where extraordinary new games, content-rich live services, and expanding global competitions will deliver more fun for our players and fuel growth for Electronic Arts."
"We had a great start to the fiscal year, primarily due to our event-driven live services," said Chief Financial Officer Blake Jorgensen. Specifically, the company has done pretty well with an operating cash flow that was the highest ever for a first quarter. That's the kind of record number that makes EA the ridiculous publishing behemoth that it is, despite numerous player complaints about micro-transactions.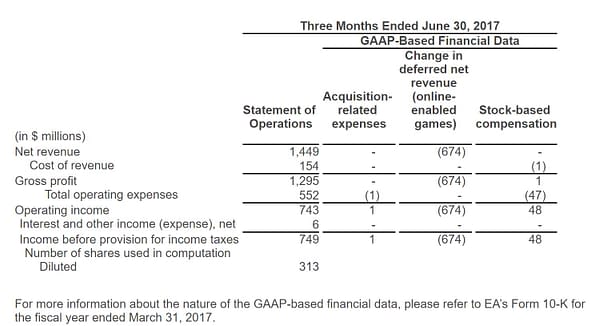 Some of their selected quarterly highlights include:
Digital net sales of $3.147 billion USD for the trailing-twelve-month period represents 63% of total net sales, up 23% year-over-year.
Ultimate Team total unique player population grew 11% year-over-year.
Battlefield 1 had more than 21 million players joining the game as of quarter end.
Monthly active players for The Sims 4 on PC increased more than 20% year-over-year.
FIFA Mobile unique player base grew to more than 95 million.
Since launching its first season, NBA LIVE Mobile has engaged more than 70 million unique users.
It is well worth noting that most of those highlights are focused on mobile games. The success of mobile video games have lead to a massive boom in sales report numbers for just about every publishing company for several months now, and that's a trend that doesn't seem to be dying out any time soon. Normally, you'd expect these things to taper off over time – it isn't like mobile games are anything new – but they are new for the major video game publishers. And the fact that you can now play versions of your favorite AAA games on your mobile devices seems to be keeping that market relatively positive.
EA's expectations for the end of fiscal year 2018 which will come on March 31, 2018 are:
Net revenue is expected to be approximately $5.075 billion.

Change in deferred net revenue (online-enabled games) is expected to be approximately $25 million.

Net income is expected to be approximately $1.125 billion.
Diluted earnings per share is expected to be approximately $3.57.
Operating cash flow, reflecting the recently adopted accounting standard related to stock-based compensation discussed below, is expected to be approximately $1.575 billion.
The Company estimates a share count of 315 million for purposes of calculating fiscal year 2018 diluted earnings per share.
Enjoyed this article? Share it!