Fallout 76 Bug Gives Players Permanent Invulnerability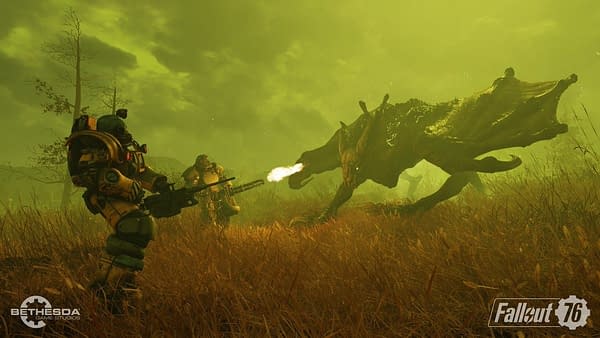 According to reports, the latest bug to hit players in Fallout 76 is a form of permanent godmode that makes affected players invulnerable to all attacks. Yes, they can even survive taking nukes to the face, which is honestly pretty damn metal for a Fallout game.
The bug news was first picked up by Eurogamer from the Fallout 76 subreddit, after redditor Brogadyn complained about how their character was unkillable after hitting level 40.
From Eurogamer:
Redditor Brogadyn took to the Fallout 76 sub to complain about a bug that had made their character unkillable after hitting around level 40.

"She can even eat a nuke blast to the face and be fine," Brogadyn wrote.

"There is literally zero ways that she can die even if I wanted her to (which I very much do at this point)."

Fallout 76 includes an instant kill barrier at the fissure south of Whitespring. Normally, anyone who enters it dies immediately. Not, Brogadyn, though. Here's an image showing their character standing, nonplussed, in the fissure.
While god mode tends to remind us all of the good old days of game cheat codes (we can all do the up, up, down, down, right, left, right, left, b, a, start Konami Code dance in our sleep), there are definitely downsides to being a virtual god. Especially in games that pit a majority of the gameplay on surviving hostile environments. Which is like, the cornerstone of the Fallout franchise.
Hopefully, Bethesda can patch the bug and poor Brogadyn can experience the sweet embrace of death once again.