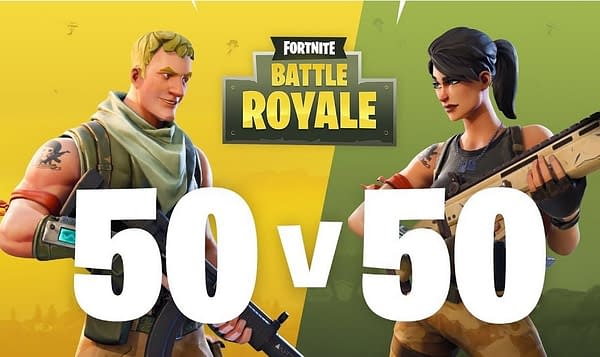 Fortnite has been hosting a limited time 50 v 50 game mode again, and its been pretty popular every time the game hosts it. In fact, Fortnite fans love the 50-on-50 Battle Royale mode so much they're asking developer Epic Games to keep it around. Typically limited time modes in the game last about a week or two, so players are worried that the 50 vs. 50 mode will be gone in the next few days.
In an attempt to keep it around, fans of the mode have taken to the official forums, the game reddit, and even social media, to ask the developer to make it a permanent game mode.
From IGN:
Community posts on Reddit and the official Fortnite Forums include fans clamoring for the mode to stay and are consistently some of the most popular posts over the last few days.

There are still a few concerns, however. Cruel Fortnite teammates who do not revive allies in order to get their loot is still a problem, but the recent weekly challenge that asks players to revive five teammates has helped this bad behavior.

The original 50v50 mode was first revealed during the 2017 Game Awards and was available to play during most of December. The second iteration of 50v50 went live this past April and quickly reappeared on May 11.
While Epic Games has not yet responded to the demands, it wouldn't be the first time that player pressure has resulted in a change to a video game, so there is some hope that players will get their wish.
Enjoyed this article? Share it!