Ghost 'Prequelle' Album Review: When a Band Makes The Leap
[rwp_box_recap id="0"]
Is there anything more fun than witnessing a band make The Leap? You know the one. When you throw on their latest album and halfway through you realize that your are bearing witness to a group of people excelling at something at a level most will never achieve. That is where we are at with Ghost and their new album Prequelle, available today.
The Swedish satanic pop-metal band's forth album features all of the hallmarks of their other three albums: Crunching guitars. Deep bass. Steady and thrashing drums. And the vocal stylings of their leader that should not match up right with this rhythm section at all. But Ghost wouldn't be Ghost without him.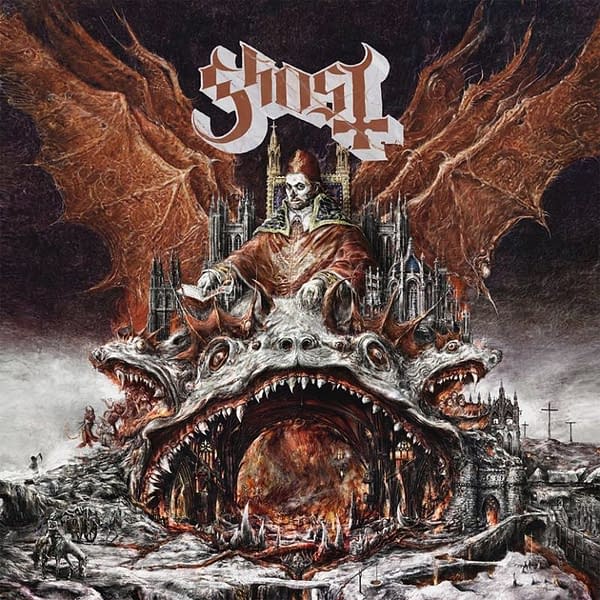 Only this time he's not the same. For those who don't know, the man behind the three Papa Emeritus (all three of them. well, four) stands revealed. After being sued by former band members last year, Tobias Forge has been outed as the brains behind the band. It may have been the best thing that could have happened to him. (Also: read this piece from Revolver with the man, great stuff.)
Prequelle sees Ghost not abandon metal altogether, but become more of a hybrid. The albums opener, 'Ashes', feels familiar, with eerie voices singing a nursery rhyme over devilish strings. The familiarity continues with lead single 'Rats', the most introspective song on the album. Here we are introduced to our "new" frontman Cardinal Copia. If it wasn't clear from the songs video, Forge is having a ball playing him and it comes through in his delivery. (NSFW)
Lyrically, it feels like he is chastising himself for ever letting those that are doing him harm behind the curtain in the first place. All of that over a riff Judas Priest would love. Another standout is the piano ballad 'See The Light', an anthem you can see a whole arena banging their heads and singing along with at the top of their lungs. After the instrumental awesomeness of 'Miasma' (featuring the coolest metal sax solo in history) we get the second single 'Dance Macabre'. Easily the album's best song, it is a straight-up '80s fist-pumping shot of adrenaline that marks Ghost's full-on dance into anthem rock. It is a love song, it's not pretending to be anything other than that, and it kicks ass.
Other solid work comes from 'Witch Image', the album's upbeat song about rotting flesh, and the closer 'Life Eternal' where they steer fully into epic and theatrical metal we all know and love from them. If anything, the most metal song on the album, 'Faith', is the most boring, and that is only because of what comes after it. Everything seems more tight, more melodic, and dare I say upbeat than anything else they have done. For an album and band that revels on how terrible everything is, is sure is fun to listen to.
Ghost is about to become one of those metal bands that can do anything they want. It happened with Metallica, it happened with Iron Maiden (they sure did learn a lot from touring with them), it happened with Slipknot with The Subliminal Verses, and with Prequelle, Ghost will now take The Leap and enjoy the success few Swedish satanic pop-metal bands have ever experienced.