Halloween Baddie Michael Myers Joins the Living Dead Dolls Line
Halloween baddie Michael Myers is getting a Living Dead Doll. Mezco Toyz line of Living Dead Dolls has been insanely popular with horror collectors and Monster Kids for years, and this is arguably the crown jewel. Michael will stand at 10 inches tall and come in window box packaging. Everything on the doll is screen-accurate, from the blue overalls to the rooted hair on top of his head. The iconic mask introduced in the first Halloween film looks, dare I say, adorable. He will also come with his trademark knife.
This will release in the fall. Perfect timing really, as the new Halloween film is due in theaters on October 19th. I hope that this is just the first of many, many Michael collectibles that we can get our hands on. Compared to other horror icons like Freddy, Jason, and even Pinhead, Michael has been criminally underproduced over the years. The ones we have gotten are fetching ridiculous prices on the secondary market, and it will be awesome for fans to add Halloween items to their collections without breaking the bank.
Check out pictures of the Michael Myers Living Dead Dolls and more details below, and preorder your own right here.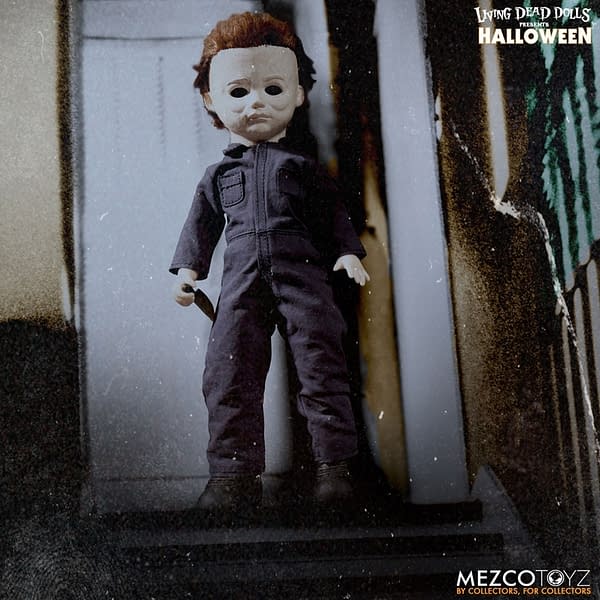 You can't kill the boogeyman!

Straight out of the 1978 John Carpenter film 'Halloween', The Living Dead Dolls present Michael Myers. "The Shape", as he's referenced in the film, has become one of the most recognizable icons of modern horror.

Nothing but darkness pierces through the all-new face sculpt of Michael's expressionless white mask. Featuring rooted hair and presented in his film-accurate blue coveralls, the terror of Haddonfield comes equipped with his signature kitchen knife accessory.

The Living Dead Dolls Presents Michael Myers stands 10" tall and features 5 points of articulation.

He is packaged in a die-cut window box, perfect for display and containing the pure evil within.