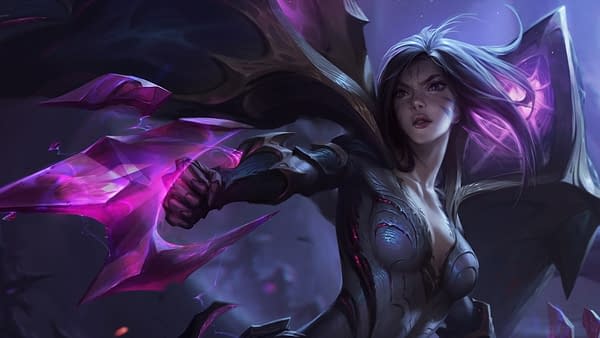 Riot Games landed themselves in some hot water when they released information on the newest character coming to their hit franchise League of Legends, Kai'Sa. Riot had announced just a few months ago that they would be moving away from the hyper-sexualized female characters trope, so when Kai'Sa's art first hit, people were naturally upset about the character's plunging neckline.
In a Q&A session about the character published yesterday, Lead Producer of Champions at Riot Games Ryan "Reav3" Mireles addressed concerns about the character's design:
We'll be the first to admit that Kai'Sa's neckline didn't land well with players and that it made her look unnecessarily sexualized, even if it that wasn't the intention.

From the beginning of her development, we wanted Kai'Sa to be a regular human who survived the Void by coexisting with a Void creature—not someone who escaped but was corrupted by the experience. We felt that this was what made her unique in the Void champion line-up, and plus, we'd recently made a corruption-themed champion with Kayn. For these reasons, it was really important for us to make sure Kai'Sa lookedlike a human wearing a Void-suit, rather than a monstrosity created by the Void.

Early on, Kai'Sa didn't have a deep neckline. When we got her in game, we realized her dark hair combined with the suit made her look more "Void creature or corrupted human" than "normal person wearing a Void-suit," particularly because the human skin showing on her face was small onscreen and difficult to read from the in-game camera. Our artists tried a few things to try and address this, and the one that worked well was redesigning her neckline so you could see her human skin more clearly when her mask was off. With this change, more playtesters interpreted Kai'Sa as being a human wearing a suit rather than a human who was corrupted.

In retrospect, we recognize we should've prioritized searching for other ways to solve this problem, especially because the end result didn't land well for many players. Even though we had good intentions, we could've done better, and in the future, we will be even more conscious of these decisions.
Mireles was certainly apologetic, but at this point, we have no information on whether or not Riot Games will be making any changes to Kai'Sa's plunging void suit.
Enjoyed this article? Share it!