Magic: The Gathering Legions Booster Box For Auction At Heritage
Heritage Auctions, an auction house based in Dallas, Texas, that conducts auctions with lots pertaining primarily to comics, video games, trading cards, and other such items of a collectible nature, has put a sealed booster box of Legions, an expansion set from Magic: The Gathering, up for auction! Veteran players will often remember that Legions is a set with only creature cards in it, including various iconic cards like Akroma, Angel of Wrath, Phage the Untouchable, and Krosan Cloudscraper. Whatever chase card from the set that players may be looking to acquire this box for, prospective bidders will have until Tuesday, November 23rd, to place a bid on this exceptional Magic booster box.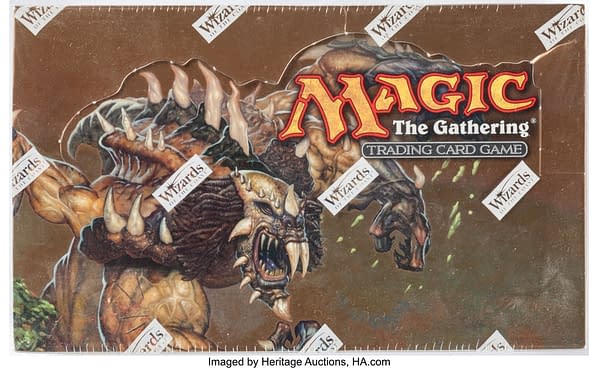 As many players will remember from playing back during the Onslaught block, drafting Legions alone was absolutely weird. With nothing but creatures, this set is a great set for chaos drafts but makes the game a ton more complex when drafting within the block itself. With a massive glut of creatures in the Limited environment, games either get very swingy, very quickly or flood the board state to one of attrition. Nevertheless, according to the item's auction listing on Heritage Auctions' website:
Legions is the second set in the Onslaught Block and is also only made up of creatures. That's right, only creatures! With creatures with Provoke, Morph, and Amplify abilities there's no need for spells. Offered here is a sealed booster box from the set! The box contains 36 booster packs, each with 15 cards for a total of 540 cards! The box has slightly blunted corners, and is bumped on the bottom edge of the back side. The wrapping has some scratching, but is intact. The overall condition of the box is Very Good.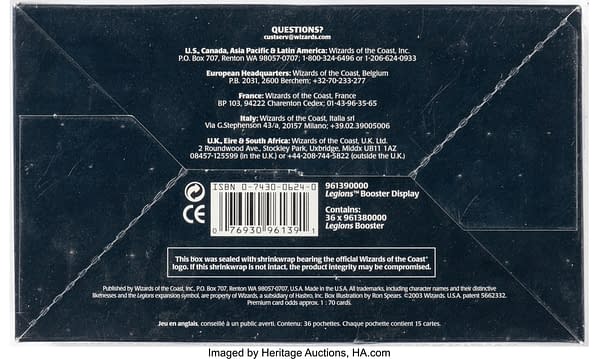 If you wish to place a bid on this lovely menagerie of a sealed Magic: The Gathering booster box from 2003, please kindly remember that you will have until Tuesday, November 23rd, to do so. You can find this item's auction listing on Heritage Auctions' website by clicking here. Good luck!