Today, a decision by Wizards of the Coast was made to delay the official debut stream for Magic: The Gathering's upcoming set, Core 2021. The set's unveiling was delayed out of respect for the National Day of Mourning in America. However, some sources debuted preview cards officially despite this information.

Three days prior, Wizards of the Coast issued a statement standing in solidarity with those in opposition of racial injustice. The company donated money to the NAACP Legal Defense Fund, My Brother's Keeper Alliance, and Black Girls Code and, on top of that, posted links to these foundations on their official Magic: The Gathering news hub.
Today Wizards of the Coast announced that they're pushing back both the initial Magic: The Gathering previews for Core 2021 as well as the ban-list and rules updates for Magic: The Gathering: Arena to tomorrow. Nonetheless, some sources such as the Magic community on Twitter have found a fair amount of card images. We here at Bleeding Cool will respect Wizards of the Coast's decision not to reveal anything today (possibly because these may count as leaks, even if inadvertent), but tomorrow you can expect us to go into the newly-revealed cards from an official standpoint.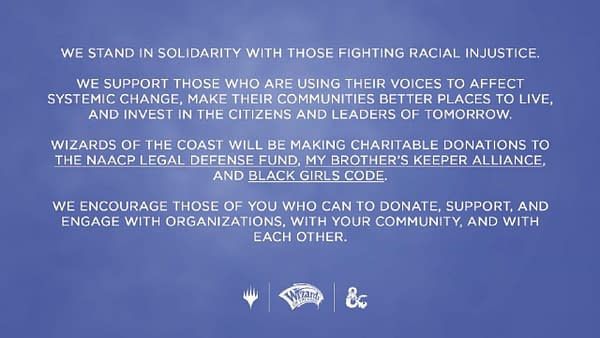 While it is understandable that some people may be upset by the lack of previews today, tomorrow is a very short time from now and we are sure to those previews tomorrow alongside the promised ones for that day as well.
We'll be postponing the debut of Core Set 2021 until Friday at 7 a.m. PT out of respect for the National Day of Mourning. #MTGM21

— Magic: The Gathering (@wizards_magic) June 4, 2020
What do you think of Wizards of the Coast's decision to delay Core 2021 releases by a day? Is this a good move on Wizards' part, or does this feel forced? Let us know your thoughts on this matter!
How You Can Help
The protests against police brutality now span the entire globe and there are many ways you can get involved. You can go out and peacefully protest if you want. You can also donate to numerous organizations that are doing a lot of good work for the cause. Here is a list of just some of them:
Over at AfroTech, there is a great list of five apps that can help you find black businesses to help support in these trying times. The rest of us should be supporting, protecting, and lifting up our black friends, family, colleagues, and total strangers whenever we possibly can.
Enjoyed this article? Share it!