FoxNext Games released a brand new update today into Marvel Strike Force, bringing new characters and a bit of Halloween fun to the game. A couple of the characters will be getting some fun perks, but the big addition is two new characters in Ghost Rider and Elsa Bloodstone. You can read more about them below and check out screenshots of them in the game, as well as their character stats. Best of luck to you and your team this haunting season.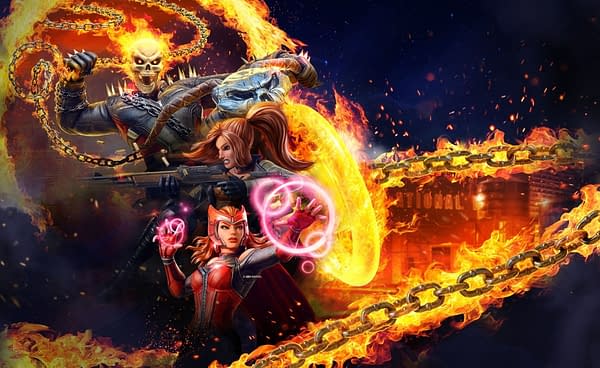 New characters joining the game in the coming weeks include:

Ghost Rider blazes into Marvel Strike Force equipped with a hellfire chain whip to unleash justice on his enemies. As a member of the new Supernatural team, he punishes souls of the wicked with his iconic "Penance Stare" to drastically damage enemies and drain their health.

Elsa Bloodstone, aka the Supernatural Sharpshooter, guns down foes with the highest accuracy. Players can pair her with other Supernatural team members to gain additional accuracy and "Crit Chance." Inflict further damage with her Ultimate, which grants her "Offense Up" and deals AOE damage.

Several existing characters will also receive new supernatural abilities in the update:

Dr. Strange joins the ranks of the Supernatural team! When paired with three or more Supernatural allies, he heals every time a buff is applied to an enemy and gains "Deflect."

Baron Mordo has also been recruited to the Supernatural team. Upon the death of any character, players can heal him and his Supernatural allies. On death of a Mystic character, players can heal the most injured Supernatural ally to gain even more health.

Scarlet Witch is naturally a member of the Supernatural team, and her Ultimate now applies "Defense Down" to all enemies when allied with four or more Supernatural allies.
Enjoyed this article? Share it!