Mash 'Ems and Hatch 'Ems Invade Shelves Just in Time for Easter
Basic Fun!'s ever popular Mash 'Ems and Hatch 'Ems squishies lines are all the rage right now, and they have an impressive array of new products available that would be perfect for little ones Easter baskets. I know my 6-year-old cannot get enough of these things, and they have a surprising amount of playability that I did not expect when I got some of these for her. They are at a great price point as well, with most of them only running $3-5.
Hatch 'Ems are surprise eggs that hatch when opened and inflate. After a little while they shrink back down to collectible size. Six chicks are available now, and they are way too adorable.
Possibly their most popular item is their CakePop Cuties. Featuring cute names like Chocochip-Cubbie, Cocoa Pup, Honey Bunny, and Tortel, these adorable little squishy figures come housed in a lollipop surprise ball. I personally have had some trouble tracking these down, so good luck out there.
Now we get to the Mash'Ems. My Little Pony has two different lines going — the regular Mash'Ems that are already on wave 9, and new Mash'Mallows, which are more of a slow-rise squishy toy. Those are available at Target, with five characters making up the wave.
Wave 1 of Power Rangers Mash'Ems are also hitting Target, Walmart, and Toys 'R' Us stores right now as well. Super Ninja Steel figures make up the wave, six characters in all. There is even a an ultra rare figure that color changes in the palm of your hand or in warm water.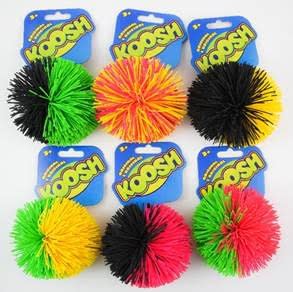 Last but not least, the Koosh Ball is also making a return! It makes complete sense that the people who make squishable toys would bring back the ultimate squishy toy. Find this one at Target, Walmart, and OfficeMax.
These are all available in stores now!