Opinion: It's Been a Tough Week for LGBTQ+ "Magic" Players
A recent book covering the latest plots in the storyline of Magic: The Gathering entitled "War of the Spark: Forsaken" has come under scrutiny by gay, lesbian, bisexual, transgender, and queer Magic players (among many others) for its content. Greg Weisman, the author, seems to have done a lot of people in the community dirty, according to many players within the LGBTQ+ demographic.
There will be spoilers for this book ahead, so please be wise in regards to whether you wish to continue. They'll be in the images, and then discussed in the text of this article, so if you don't want to be spoiled for this book, be advised that this will happen.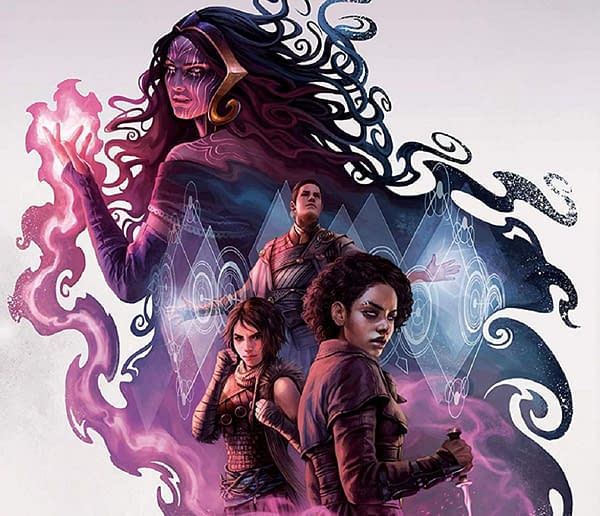 With the recent controversy surrounding openly-nonbinary Magic pro player Autumn Burchett being censored by Wizards of the Coast and then having that decision be rescinded (but only slightly), Magic: The Gathering players, especially those within the LGBTQ+ community, already had reason to be wary of Wizards of the Coast.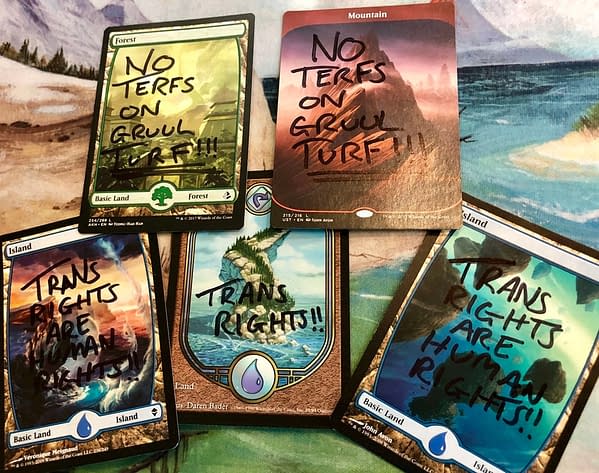 But to many, that wasn't quite as harsh as a change in the continuity of this story. After all, the Wizards ruling over Burchett's cards was revised after backlash from players, and Burchett was allowed to play their cards. No no, this can be seen as a shot at the LGBTQ+ community and bisexuals in particular.
Spoilers in-depth begin now. This is your last warning.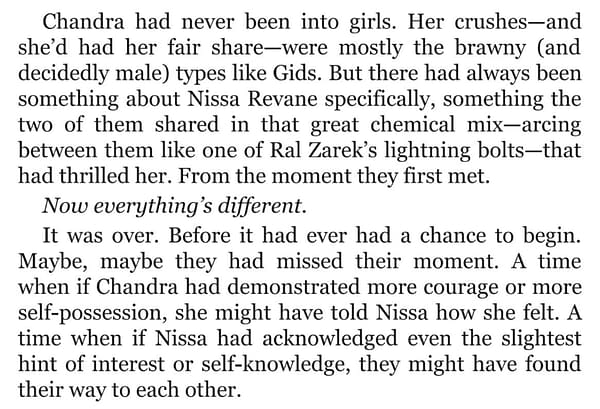 This excerpt from Forsaken says a lot about how Weisman has written Chandra Nalaar, who is set to become the new face of the Planeswalker pantheon for Magic. There is a Netflix show in the works for her and her adventures across the Multiverse, but there is a bit of a snag. Chandra, pyromancer extraordinaire, was in something of a budding (excuse the pun) relationship with the Elvish elementalist Nissa Revane. While Netflix has oodles of shows which are rated for a young enough audience and feature same-sex relationships, for some reason, this doesn't seem to fly with Wizards and their brand, especially for the main character of their show. Exhibit B:

Platonically? After all of the character arc build-up on Kaladesh and Amonkhet, and after Nissa's departure from the Gatewatch (and Chandra) on Dominaria, some author who isn't any more than contracted by Wizards has the nerve to call their relationship platonic? Humbug! This can be, and is, seen by so many members of the the LGBTQ+ Magic community as queerbaiting.
You don't have to take my word for it. So many people on Twitter are outraged:
With all of this backlash, will Wizards of the Coast see and seize the opportunity to backstep a second and deem this story non-canonical? Characters die in this book, so we can't be sure of that because generally when Wizards of the Coast kills a prominent character in Magic: The Gathering lore, they're dead and they can't be resurrected.
At any rate, how do you think Wizards will react to the outrage of this demographic? Will they back-pedal? Will they even acknowledge this public relations nightmare? Time will tell, but no matter what, Wizards is being judged hard right now for its actions as a corporate entity.