Review – Dungeons & Dragons: The Wild Beyond The Witchlight
Last month, Dungeons & Dragons released their latest adventure book as players got to play the whimsically spooky The Wild Beyond The Witchlight. This particular book came out several weeks ago, and usually what we like to do is actually test out the content with players for the review rather than just reading over what's in the book. Unfortunately, we had three different sessions fall apart and weren't able to really dive into some of the content here. So please forgive our lateness on this review as we do our best to tell you what you might enjoy or dislike coming out of this new adventure title.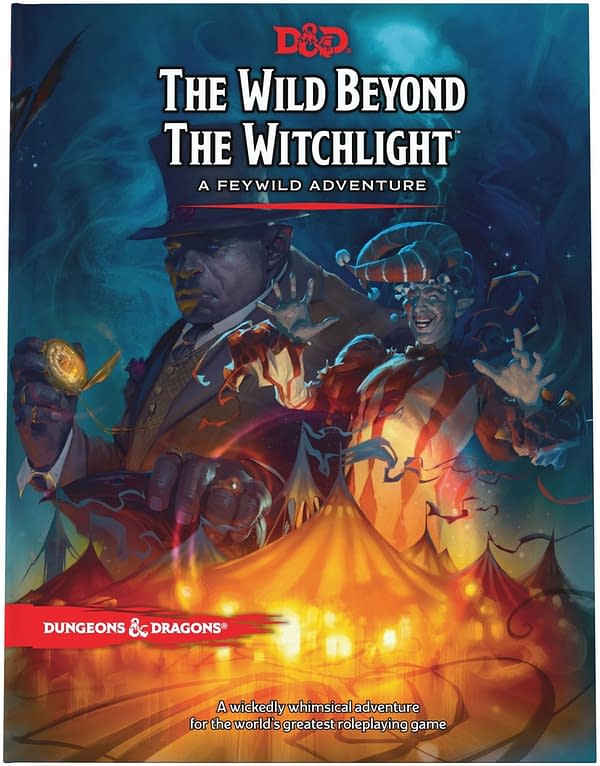 The primary focus of this book is to hurl you and your party deep into one of the most wondrous, spectacular, mysterious, and dangerous realms in all of D&D: The Feywild. This is one of those places where if you can imagine any fairy tale or pixie-filled lore you can think of it, it probably exists here. This adventure book has a few cool additions to it that will keep you busy for a long campaign that you could stretch out for years if you so desired just from the sheer amount of possibilities at your disposal from both the book and other previously released resources from the company that you could tie together. This is some of the best kind of fantasy as it gives you an opportunity to explore a piece of the Forgotten Realms that, quite frankly, flies in the face of disbelief and will give you a smile at almost every turn. Well… when you're not fleeing for your lives.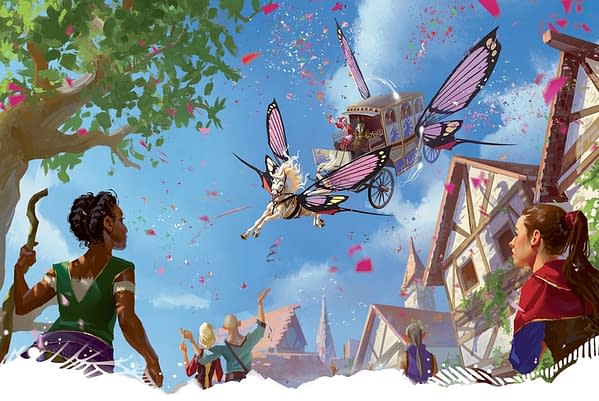 The introduction to the story gives you a bit of background info for DMs to run the campaign, as well as a number of new options for players. Specifically the fact that you now have Fairy and Harengon character options at your disposal. So if you've ever wanted to be a bunny/rabbit/hare who can talk, this is your chance to do it officially without a homebrew! There are also new backgrounds in the Feylost and the Witchlight Hand that will give you a leg up in certain areas, especially the first one which comes with Feywild Visitor as you may get visited in the middle of the night by a pixie, a centaur, a unicorn, a number of other creatures who don't walk too far from the Feywild. There are some great things to experiment with here that will bring some added magic to your Dungeons & Dragons character.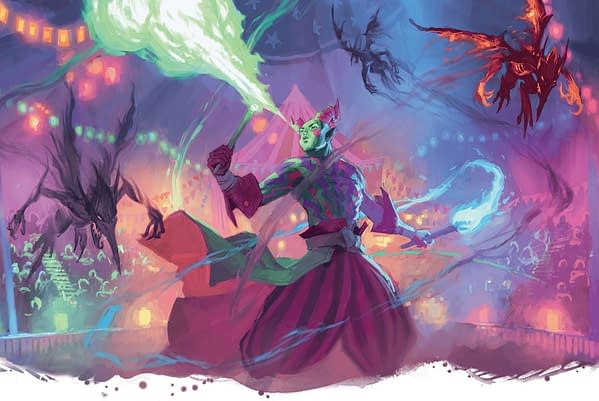 One of the few drawbacks to the adventure is that they kinda corner you into running a Session Zero and set up people's characters with some guidance ahead of time. You can choose to look at it as a negative where you have to play this a certain way, or you can roll with the positive that this is a realm where people don't generally visit often, and getting here requires a real reason beyond just "hanging out" and "looking for treasure". Everyone is kind of given a bit of a quest depending on how the story shapes up, so there's a purpose to being around rather than having four people run into each other at a bar before agreeing to go off to a place people don't normally go. It's clever and should be applauded, but I can see how some Dungeons & Dragons players will argue about their hands being forced before getting out the gate.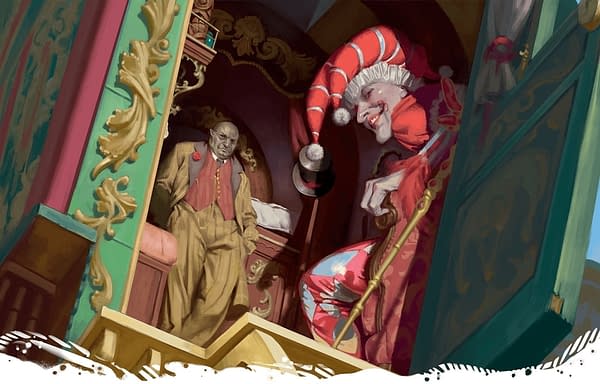 From this moment forward, we're going to get into some spoilers for the story and this should be for DM's eyes only. So if you don't want this particular Dungeons & Dragons game ruined for you, SPOILER: THIS IS YOUR ONE WARNING TURN AROUND OR SKIP TO THE END!
The first part of the story delves into the Witchlight Carnival, an evening location that's only open for eight hours at a time with its own set of events that take place all over the map. This is a faire unlike no other in which you'll start your journey and gather some info from which to spring forth on. There's a lot to do here that can be entertaining for everyone, and there's great chances to make some fun memories out of it with your players that they can carry throughout the game. But ultimately, this serves as a focal point for what is to come, and there's a lot of mechanics that you have to pay attention to like the tracking of time, where certain characters are at different points, and events that will be taking place that could have an effect on what info people walk out with.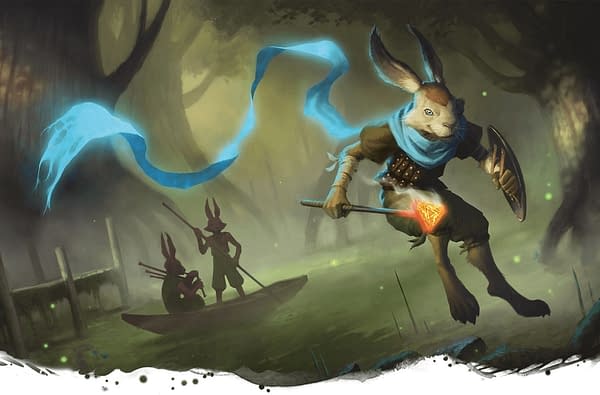 Chapter two ramps things up a bit as you leave the carnival and head to a land called Hither, which is basically a swamp of dread. The one bastion of life in it is a place called Downfall, which is basically a ramshackle shanty town, surrounded by swampland and hags and other creatures you really don't want to meet. Players will need to use the map to navigate their way around. Chapter three heads into another realm of the Feywild as you encounter Thither. This area feels almost like you're watching the films Legend and The Neverending Story side-by-side in the same moment as this where a lot of the more fantastical creatures tend to live, along with an interesting character by the name of Little Oak. Each day here the land and its inhabitants slowly fade from existence, but we're not telling you why. This is for you and the players to encounter while making your way to the next location.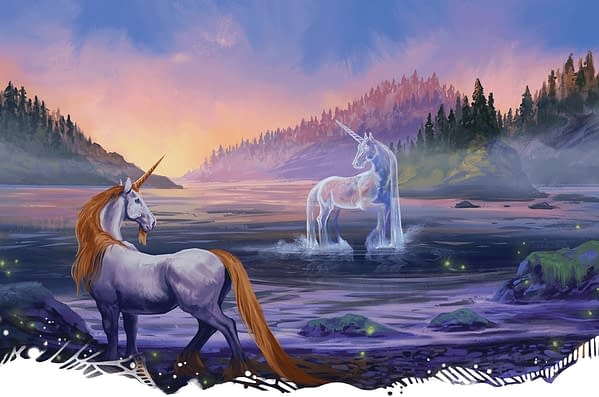 Chapter four focuses on the next major realm, simply known as Yon. This place has a lot of encounters and troubling aspects to it, but ultimately it serves as a place for you to continue your quest and find the road back on the beaten path. Everything here is a little darker, a little more on the edge, and a bit more combative. Like the fact that at some point you might run into a giant dandelion looking to get into a scrape. Or a ton of bees roaming the area while a cyclops looks for the queen. This area feels much more like some of the darker Jim Henson productions like The Dark Crystal, especially when you run into creatures like the Korred. Oh, and keep an eye out for whatever may be above you…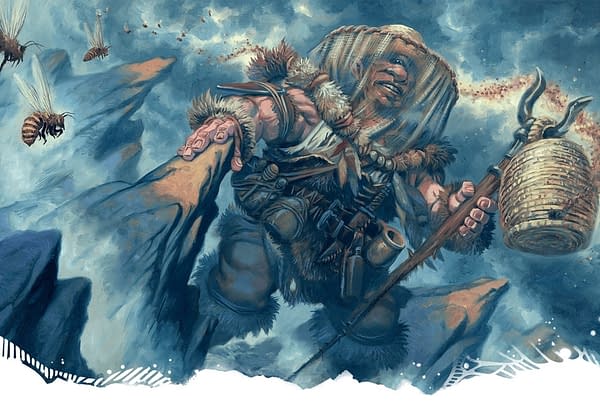 Chapter five is the last bit of this Dungeons & Dragons campaign as players make their way to an area called the Palace of Heart's Desire. Since there's so much of the story tied here, we won't ruin it for you, but this is one of those areas where you can tell at one point it used to be something magnificent. But time and the forest have claimed much of it and have truly made this a part of the Feywild. if this were any other game, there would be some kind of way to restore it to glory. But this is Dungeons & Dragons, and glory isn't on your mind at the moment, exploration is. And this palace is basically a dungeon crawler's dream as it has so many floors to check out with a ton of options for players to get into serious trouble. Or possibly make some awesome choices. Who knows! There are also a few different options to explore for endings, so a lot of fun encounters can be had once you get here.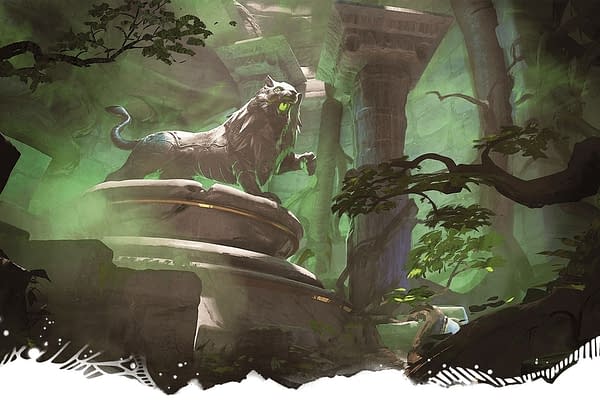 The final parts of the book are a series of appendixes that contain magic items, info on different factions, a ton of creatures, some roleplaying cards, and other material we'll keep spoiler-free for now. if you happen to be one of those DMs who love to carve little pieces of different books out and throw them into other adventures, then you're in for a treat as the magical items alone will make your day. A few of them being items that do really awesome things, but they come with a price. You'll also have fun raiding the rogue's gallery of monsters from this realm as it will be fun adding things like Campestris (talking mushrooms) or a random Brigganock who has been living in seclusion to the middle of an adventure.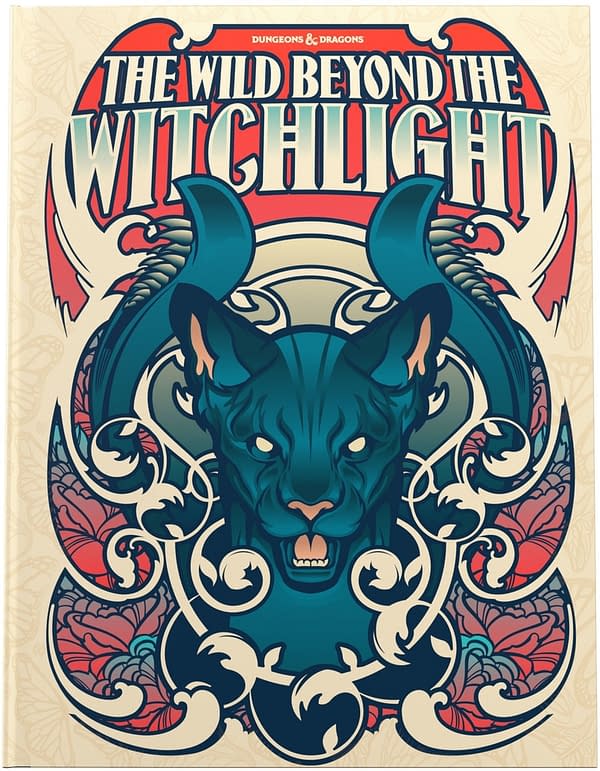 Ultimately, I feel like the Dungeons & Dragons team did an amazing job with The Wild Beyond The Witchlight. However, this book hits certain beats that not everyone is going to dig. That's not to say it's a bad book, the story in it is quite enjoyable. That said, I know a lot of players who probably wouldn't be into the carnival or the clown aspect at the start, or be interested in exploring a land with unicorns, or having to follow a story that involves a lot of witches. And that's okay, every player has their own personal taste. But if you're going to pick this one up to run a full campaign, its best to check and see if everyone is on board with the content. Beyond that, it's a great story that I wish I could have tried out with people first.