Scuf Gaming Brings Their New PS4 Vantage Controller to E3
One of the last stops I made on the last day of E3 was over at the Scuf Gaming booth, and it was well worth the visit to see their new controller. This thing is basically an upgrade from top to bottom as they've taken their previous PS4 designs and streamlined them to make them much more functional and customizable. Just take a look at the diagram below and you can see they went all out to make every single button on this controller programmable, removable, and perfected so that no matter what scheme you want, you can have it in an instant.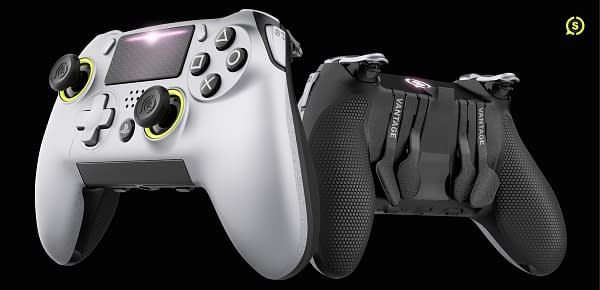 Some things to take note of are the new sax buttons on the sides, the refined paddles that have more of a grip feeling as opposed to just sticking out, and the face plate that can change out the design and also allows you to mess with the thumbsticks as well as the action rings and the D-pad. Not to mention a refined touchpad, maping switch on the bottom, and removable vibration modules in the grips. This is about as "build it how you want" as you can get. You can pre-order them from Scuf Gaming right now as the wired model will be $170 and the wireless BT model will be $200. We hope to snag a review controller down the line to let you know all we can while playing with it.