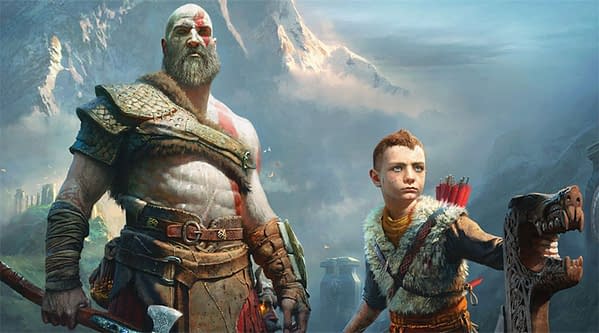 Tribeca Film Festival scaled back their video games offerings for the Tribeca Games Festival a tad this year. Rather than a full day of panels and keynote speeches by notable game directors, this year will focus on three games. Shadow of the Tomb Raider will be hosting a panel for a special gameplay preview, God of War's cast and crew will discuss how they went about re-imagining the Ghost of Sparta in the world of Norse Mythology, and Super League Gaming will be hosting a League of Legends Battle of the Boroughs tournament. You can find the panel descriptions and tournament info below. Tickets can still be picked up here.
A Special Preview of Shadow of the Tomb Raider – April 27, 2018 at 4pm EDT.
Join the creative team behind the critically acclaimed and world-famous TOMB RAIDER® franchise, which has sold over 63 million copies globally, as they discuss the evolution of Lara Croft and share in the techniques, tools and inspiration behind the series. Daniel Chayer-Bisson (Senior Game Director), Jill Murray (Lead Writer), Rich Briggs (Senior Brand Director) and special guest Camilla Luddington (performance artist for Lara Croft) will be on hand for this special event moderated by Geoff Keighley. Panel attendees will be able to witness an exclusive extended gameplay demo for the upcoming Shadow of the Tomb Raider game, which launches on September 14.
Re-Imagining God of War: The Inside Story – April 27, 2018 at 6pm EDT.
Play the game, then hear the story behind it! Kratos, one of Playstation's most recognizable icons, returns in God of War from Santa Monica Studio and Creative Director Cory Barlog. Now, only days after the game's release, Cory, joined by cast members including Chris Judge (Kratos), Jeremy Davies (The Stranger) and Danielle Bisutti (Witch of the Woods), takes players inside the creative process of reimagining the franchise and its Nordic inspirations. This in- depth discussion will, for the first time, reveal untold stories from development and explore the creative decisions that brought God of War to life on PlayStation 4. Moderated by Chelsea Stark (Managing Editor, Polygon)
Super League Gaming League of Legends Battle of the Boroughs Tournament – April 28, 2018.
Tribeca Games partners with Super League Gaming and Super League's New York City Club, the NY Fury, to bring New York City League of Legends fans the first Battle of the Boroughs, an amateur esports tournament which will pit New York's finest players from all five boroughs in a fight for the Tribeca New York championship. Players in and around the NYC area who are level 30 and above may enter online qualifiers beginning on April 14, with top players then competing in a live Finals in-theater. Players interested in registering to play can sign up here: www.superleague.com/boroughbattle
Enjoyed this article? Share it!