Skyrim Grandma Has Been On A YouTube Break Thanks To Commenters
YouTuber Shirley "Skyrim Grandma" Curry has been taking a two-week break from filming new videos in a bid to take charge of her health. It appears she's been feeling mistreated and harassed by some commenters who have not only been backseating obnoxiously during her videos, but downright stressing her out to the point where she doesn't have fun making videos anymore. Yes, the very gamer that Bethesda itself said would be adding to The Elder Scrolls 6 when it debuts is being treated as if she doesn't know how to play or what she is doing.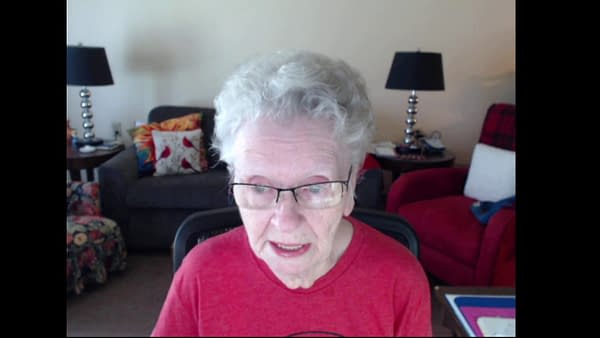 "My health isn't very good. My blood pressure is going insane," Curry said at the beginning of a special blog she had filmed earlier this month. "My stress level is way too high. And I'm going to have to take control of it. Some of the comments are stressing me out way too much."
Curry wrote a quick script to read on her vlog, noting that she'll be responding to very few comments and deleting "a lot" going forward thanks to the rude remarks from people who have been watching her Skyrim Grandma videos.
"I don't have to be told about what games to play, and describe to me what the games are like," Curry reminded viewers. "I look at all the games. I'm a gamer, and if I wanted to play them I would be playing them. And when I tell somebody 'no,' that's a simple answer. Easily understood. You don't need to come back with 'Why?' Because I don't have to explain myself. And when I do nobody seems to get it anyway." Curry often makes up stories in her head that don't follow the main story of Skyrim as she enjoys creating role-playing scenarios.
"If you don't like the way I play, I don't know why you watch. You can go watch some other gamers, because I'm tired of stressing over it." Well said, Grandma Curry.