Skyrim: Very Special Edition is Actually a Real Thing You Can Download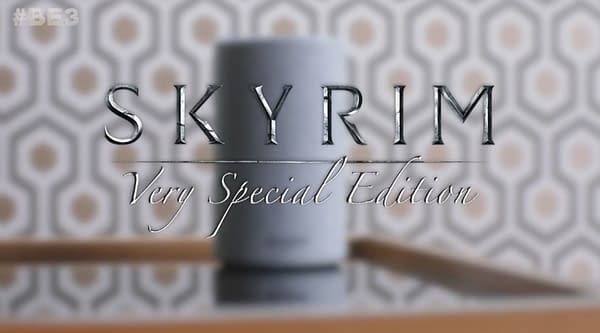 Alright so when Todd Howard and Bethesda announced the Skyrim: Very Special Edition during the Bethesda E3 show last night, we did not think that it was real. We knew that we'd play it if it was, but we were really hoping it was just a self-aware joke on behalf of the Bethesda E3 show's history of, well, selling you Skyrim in a different format every single year. I'd been making Skyrim Mobile jokes for the last month or so, everyone else kept asking about Elder Scrolls VI, and then out comes Keegan-Michael Key shouting at Alexa and we thought it was too good to be true.
Well, thanks to Wario64 on Twitter, we know for a fact that you can actually go and add Skyrim: Very Special Edition to your Echo, so that Alexa can tour you around the world of Skyrim without a visual interface. You can shout "Fus Ro Dah!" in your house and actually have someone answer you — it's amazing.
Yep, you can go download it right now. For free.
All you need in order to LARP your way through Skyrim with accompanying narration is access to an Amazon Echo or Echo Dot.
And if that wasn't enough for you, here's the official game description:
Players: 1
Bethesda Game Studios is proud to present Skyrim… for Alexa. Yes, that's right, the version of Skyrim you never saw coming has finally arrived on the platform you never asked for.

For the very first time ever, take your rightful place as the Dragonborn of legend (again) and explore Skyrim using the power of your own voice…your Thu'um.
I'm still calling Skyrim Mobile for Bethesda E3 2019 though. Because you can't not buy it again.