Star Wars: The Last Jedi Gets a New Wave of Funko Pops
Star Wars: The Last Jedi will indeed be getting a second wave of Funko Pops this year. The film hits home on March 27th, some point after you can collect this wave of creatures and character updates for the always-expanding Star Wars Funko Pop line. There are some cuties here; Luke gets another Pop, more Porgs, and two new movie moments celebrating the most iconic scene from the film (no matter how you felt about it). Let's take a look: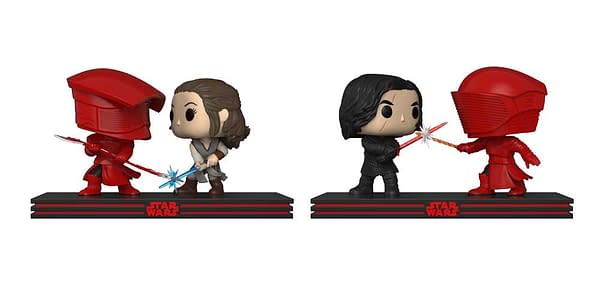 First, the Movie Moments. These two sets will honor the spectacular Throne Room scene from The Last Jedi when, for a brief moment, all was right in the galaxy and Kylo Ren and Rey fought side by side to take down Snoke and his Praetorian Guards. I love the little light bursts where the sabers and energy blades are meeting. Both of these will be must-buys.
After the movie moments, we get a six Pop wave of figures. The sad Porg is going to be popular, as will the Vulptex. That one is one of the cutest Star Wars creature Pops they have ever done. The Ahch-To caretaker is immortalized, along with resistance pilot C'ai Threnalli. Rose Tico's brave sister Paige gets a Pop of her own, and finally a Force projection Luke Skywalker from the Battle of Crait rounds out the six. Man, is that Luke awesome. He should be in the brush-off-the-shoulder pose, but I digress.
There is no firm release date for this wave yet. There is also no info on whether any of these will be exclusive, but I don't think that's the case — they usually note that right away. I would say these would be out sometime in May/June before the summer convention season really takes off. Keep an eye here for preorders to go up.