Hello loyal readers! Thank you very much for sticking with me all this time – it's almost 2020, and the clock is ticking ever the more close to the new year. As such, I have a new Commander deck tech to close out the old year – 2019, a year stricken with scandal, revelations, and apparently Wolverine's endowment? Thanks, Jude. That's awesome. To the fridge door it goes!
Anyway. Today's final Commander deck tech for Magic: The Gathering in 2019 pertains to a mountain of a man – a character so calculating, so smart, so… so numerical that he only needs one introduction: the ineffable and esteemed… Baron Von Count!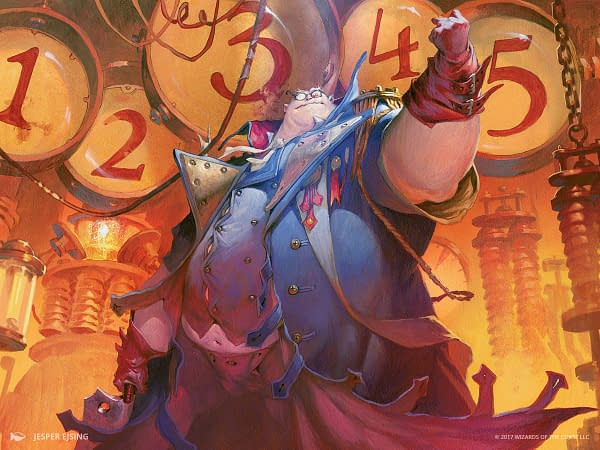 The decklist to be discussed in this article can be found here.
This is a deck with an absolute ton of working parts – nearly 100, to narrow the scope a bit. Each one of the 60 nonland cards other than the Baron himself has at least one numerical symbol within the text box, power, toughness, or mana cost of the card, within a range of one to five. Let's look at a few of the heavier hitters within this deck (all in all, 31 different cards! I hope you all like Scryfall links!).
1-2-3-4-5 (Also Known As "The Straight Flush")
There are six cards all in all within this deck that can act as any one of the five numbers involved in winning via the Baron. Of those six, four (Strategy, Schmategy, Urza's Science Fair Project, Goblin Tutor, and Spark Fiend) are silver-bordered, meaning that if Baron Von Count is the only silver-bordered card in your deck, you're going to have a bit more trouble. The other two cards are great examples of cards you can (and – dare I say it – probably should) run in a Baron Von Count deck: Staff of Domination, and Zulaport Enforcer.
Here's a little diagram detailing how cards like Zulaport Enforcer work to achieve this: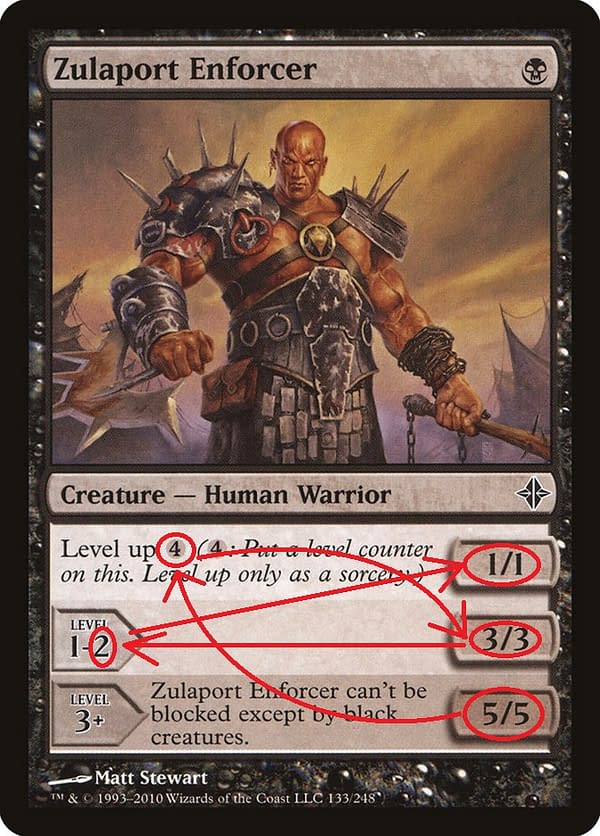 As you can see, the card has a ton of different numbers in the text box, all of which work to win you the game with the Baron. Moving on!
4 Numbers (Nearly a Bingo)
This category has a lot more cards, by virtue of statistical likelihood (more cards will generally have fewer numbers than more). For this, I've separated these into three different sections:
1-2-3-4: These cards among others have the prefacing numbers on them, but lack the all-important "5" to set the plans of the Baron in motion. Some cards in this category include (among others!) Lava Zombie, Renegade Freighter, Brimstone Mage, and Shriekmaw. Shriekmaw is a great card for this deck because it's generally a staple in black "goodstuff"-style decks, but in here it actually has a purpose.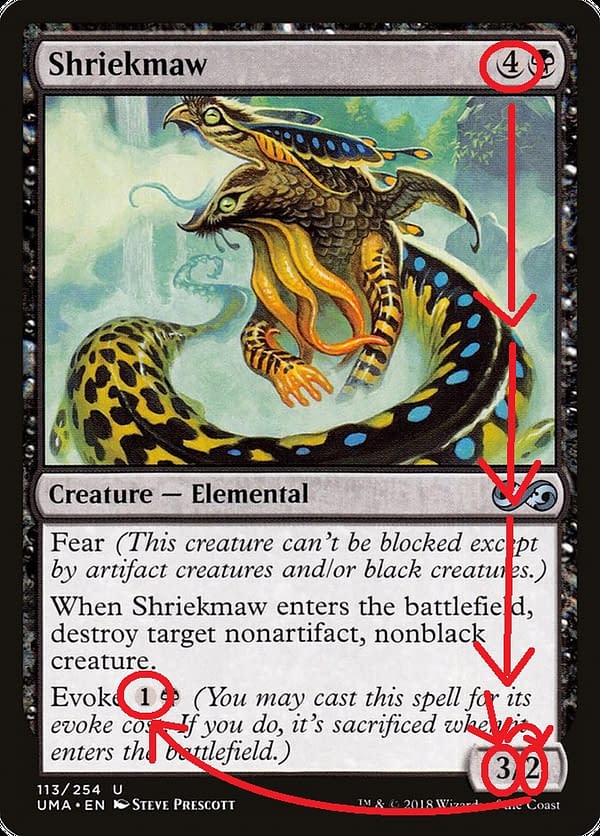 1-2-3-5: These cards, like the ones directly above them, are missing a number (in this case "4"), but at the very least can still reliably be used to start the chain off. This is crucial. Any cards with "5" anywhere relevant are valid for this deck because it means that the counter can start to move. Cards in this category include Atarka Efreet, Ensouled Scimitar, Jaya Ballard, Task Mage, and Chandra, Torch of Defiance.
"But wait," I may hear some people ask, "I thought Planeswalker loyalty and loyalty costs were not legally able to achieve the Baron's numbers!" And to that I have to laugh: HahaHA! Because Chandra technically has all five numbers in her text box, since the loyalty costs do count as being in there. No matter how distinct, the text box's border is still part of the text box, and Chandra's loyalty abilities, cost and all, are there.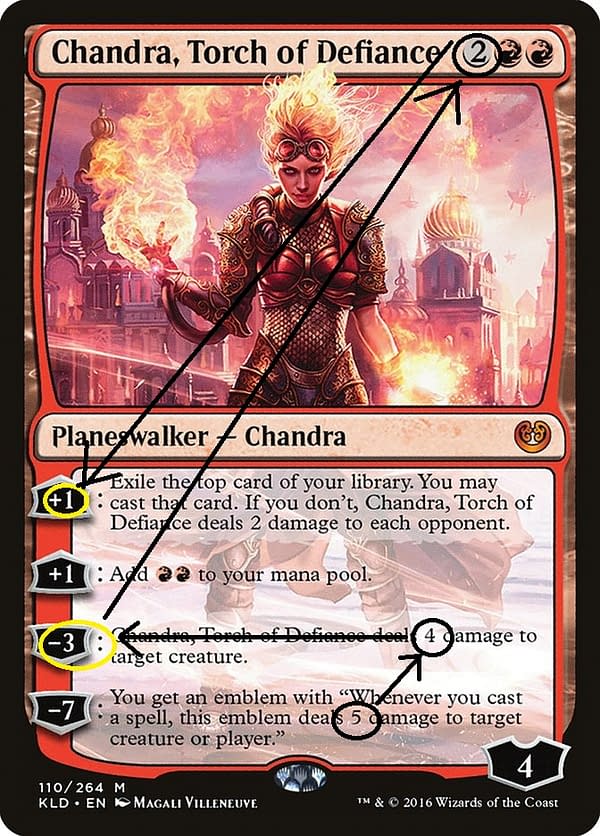 Miscellaneous 4's: There are a few other cards with singular instances of four numbers (other than those that just lack "4" or "5"). These cards are a little less necessary but still very helpful otherwise in enacting the Baron's schemes. These cards include Koth of the Hammer, Kolaghan, the Storm's Fury (who is great because she can be dashed into play a number of times), and Serpentine Spike. Yes, even Serpentine Spike has a home in a deck.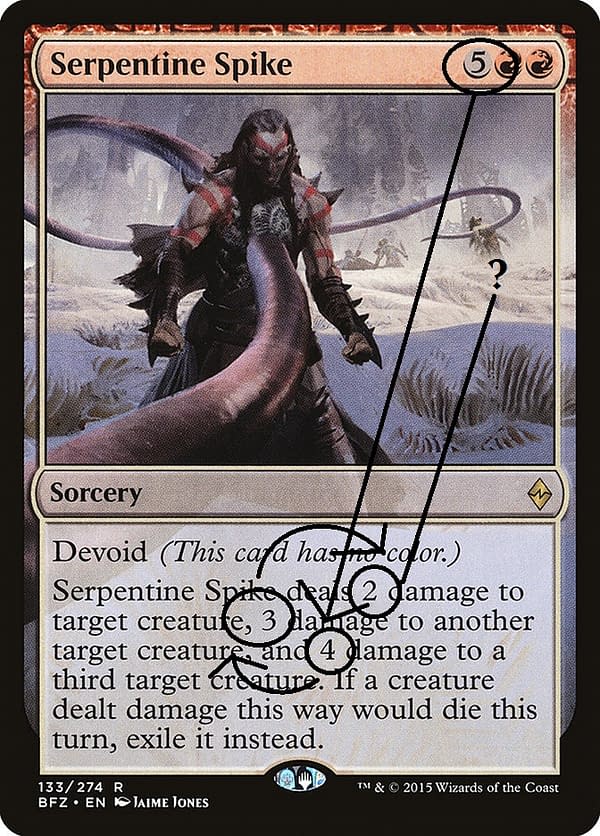 The Power of Fives
There are a ton of cards in here with two or three numbers on them – and that's all well and good – but we want to now focus on cards with the number "5" on them. This is vital because without "5" we can't do anything with the deck. The Baron would be dead in the proverbial waters of the game and you'd be a sitting duck for more (literally) serious decks. So, with that in mind, some of my favorite "5"s are Jalum Grifter, Rune-Scarred Demon, Sprinting Warbrute (who I should note, like Kolaghan, ought to always be dashed in), Stinkweed Imp, Face to Face, Ruinous Path, Wolfhunter's Quiver, and Water Gun Balloon Game. A few other cards which have already made rounds here also have the much-needed "5", but that's already been mentioned.
My Time Grows Short
I thank you for bearing with my diatribe on the cards most useful for a Baron Von Count Commander deck. He's interesting and while he probably won't see much play success, he like so many other silver-bordered Commanders is always good for a laugh or two.
What do you think? Is the Baron one joke too far for me? What do you want to see from me in the future, and what do you expect from Magic: The Gathering as the new year draws near? Let us know!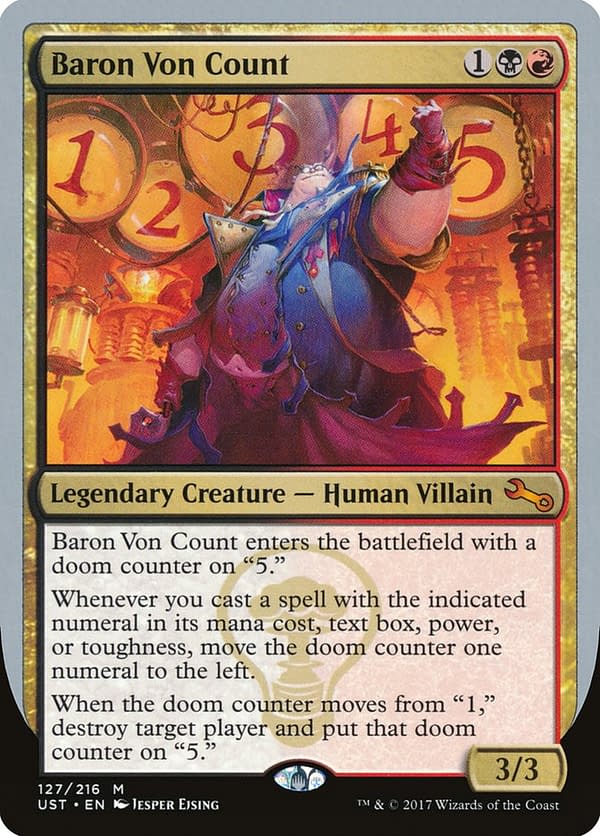 Enjoyed this article? Share it!