The Next "Super Smash Bros. Ultimate" DLC Charcter Is Byleth
In a decision we're sure will divide the fanbase and annoy Waluigi fans, Byleth from Fire Emblem: Three Houses comes to Super Smash Bros. Ultimate. The character will officially be added to the game on January 28th, so less than two weeks away. The character incorporates costumes, moves, and even a little bit of lore from the most recent entry in the series. The costumes for the fighter reflect the different states you find them in during the game, as well as three representing each house. You have three weapons to work with in your standard sword, a spear, and a bow. Each with their own advantages and disadvantages in attacks and strategy. They did their best to make this character different from the other sword-wielding fighters.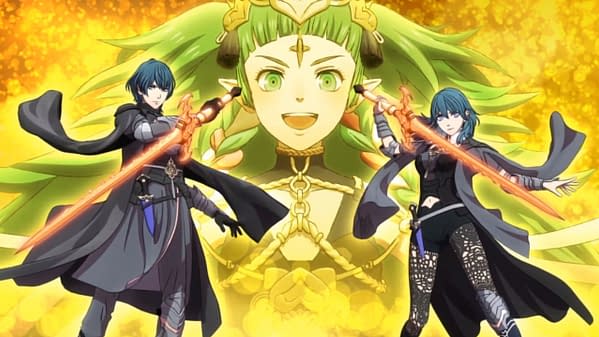 The level you'll fight on is the Garreg Mach Monastery, which has four locations to moves to: marketplace, reception hall, bridge, and cathedral. The Smash Attack is a callback to the game when you receive a boost from Sothis to wipe out several people on the ground. Along with this news, a new set of Mii Fighter costumes were added that include Mega Man X, Assassin's Creed, Rabbids, Mega Man Battle Network, and Cuphead. All five will be available on January 28th for $0.75 apiece. Two more Amiibos were shown off as well as Dark Samus and Richter were revealed, being released on January 17th. Finally, at the end of the video, it was revealed six more DLC fighters were in the works to be released over the course of 2020. Along with a second Fighter's Pass for you to purchase. The bonus costume to the second pack will be The Ancient Soldier gear to The Legend Of Zelda: Breath Of The Wild.
You can watch the entire Super Smash Bros. Ultimate video here to see Byleth in action before they arrive at the end of the month.