The newest video showing off an extended amount of gameplay footage from The Last Of Us Part II featured 20 minutes of the game meant to wow viewers. But what ended up really stealing the show was a brief moment that featured a PS Vita and a girl playing it. That was certainly one of the most interesting moments by far. Ellie is seen creeping up behind someone and then passing a knife to their throat. We see the person is a girl who's apparently playing a PS Vita, and she has ear buds in as she plays the indie game Hotline Miami. The music continues to blare even after Ellie has swiftly dispatched the girl, who fights back in vain.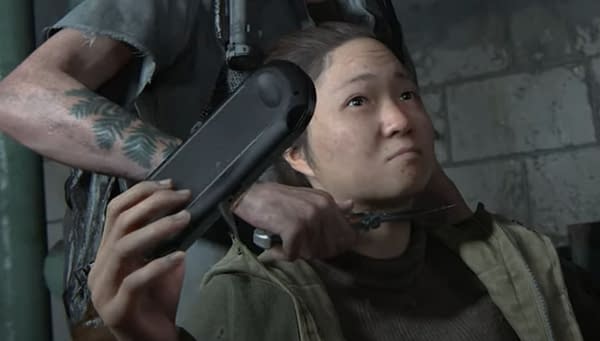 Here's a brief peek into some of what game director Neil Druckmann shared about the journey during the lengthy State of Play presentation:
25 years after the pandemic began, the world has completely overgrown. Use tall grass to hide from enemies and go prone to stay out of sight. However, this form of analog stealth means you're never fully hidden. If enemies get close enough, they can discover you even in the grass. When Ellie is overwhelmed, running away is a viable option. You can also break glass or crawl through tight spaces to find new paths or areas to evade, or take on your enemies. In any given combat situation, you can flee an encounter and re-establish stealth to regain the advantage. If you absolutely have to fight your way out, there are a variety of tools at your disposal.
The Last of Us Part II is set to debut as a PlayStation 4 exclusive on June 19. That's less than a month away now, so it's just about time to join Ellie on her journey for what appears to be redemption. Better finish up the first game now if you plan to be caught up!
Enjoyed this article? Share it!