The Sustainability Week Event Begins Tomorrow In Pokémon GO
The Sustainability Week event begins in Pokémon GO tomorrow, adding the new Pokémon Binacle and Shiny Trubbish to the game. Let's take a look at what else this environmental awareness-themed week of gameplay will offer.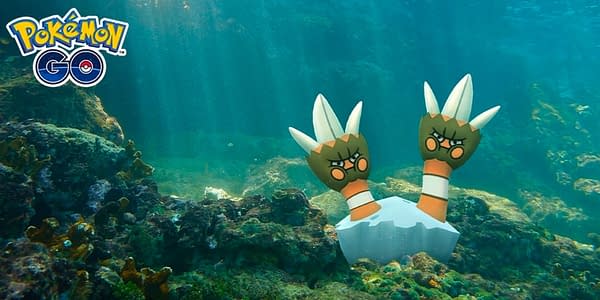 Here are the full details from the official Pokémon GO blog:
Date + Time
Tuesday, April 20, 2021, at 10:00 a.m. to Sunday, April 25, 2021, at 8:00 p.m. local time
Note that Friendship Day will take place during this event from 11 AM until 2 PM. Then, we'll have a few days of no events it seems until the New Pokémon Snap event begins on Thursday, April 29th.
Features

Binacle, the Two-Handed Pokémon, will be making its Pokémon GO debut! Pokémon like Grimer, Drilbur, Trubbish, Ferroseed, and more will be appearing more often in the wild. If you're lucky, you might encounter a Shiny Trubbish!
At least here we have confirmation that Trubbish will be spawning in the wild. We have seen a string of raid exclusive-Shiny releases, so it's nice to see it written right here that the cost of a Shiny Trubbish won't be a week's paycheck worth or raid passes. However, we don't know yet if it will be prohibitively rare in the wild as some recent event Pokémon have been.
The following Pokémon will be hatching from 5 km Eggs: Diglett, Tangela, Goldeen, Budew, Cherubi, Finneon, and Drilbur.

Vileplume, Alolan Exeggutor, Trubbish, Binacle, and more will be appearing in raids. Complete event-exclusive Field Research to earn encounters with Cottonee, Chespin, Binacle, and more.
Binacle, on the other hand, isn't explicitly mentioned as a wild spawn. It'll be interesting to see if Niantic locks it to raids or if it will join Shiny Trubbish in the wild.
As far as the rest of the eggs, Budew is certainly worth chasing as a Shiny-capable Baby Pokémon that once was a standard 7 KM egg feature in Pokémon GO before the pool shake-up in February 2020.
There will also be event-exclusive Timed Research for you to enjoy.
Bleeding Cool readers can stay tuned for a full breakdown of the tasks and rewards for this Timed Research. Fingers crossed for Binacle and Trubbish encounters.
You can work alongside players of other Niantic games to unlock special tiered in-game rewards by participating in the Niantic Sustainability Campaign in the real world. The following rewards will be available on Sunday, April 25, 2021, from 10:00 a.m. to 8:00 p.m. local time. Tier 1(2,500 activations): Five-star raids will appear more often. Tier 2 (5,000 activations): A free bundle containing three Remote Raid Passes will be available in the shop. The rewards from Tier 1 will remain active. Tier 3 (10,000 activations): A 2× Catch XP bonus will be live. The rewards from Tiers 1 and 2 will remain active.
Niantic included information about this campaign for Pokémon GO players over at their official website. Outside of the fact that this campaign encourages players to better the world around them, it also offers features that I would say are far more enticing than the Global Challenge of Rivals' Week offered. While last event was underwhelming, this event looks as if it is attempting to make a positive impact on the world and give players actual in-game rewards for doing so.