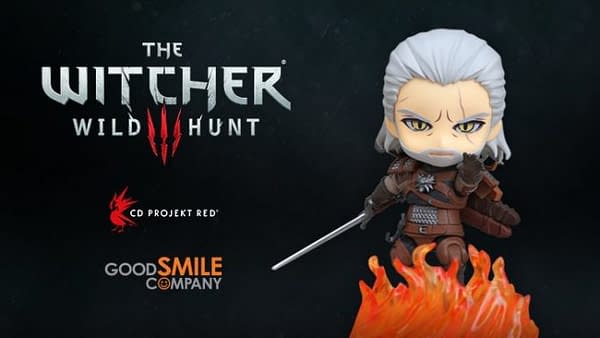 It's been a good week for The Witcher III's Geralt of Rivia, as the character has been confirmed as a playable character in SoulCalibur VI and is getting his very own Nendoroid figure from the Good Smile Company. The chibi version of the titular Witcher is actually much more adorable than we would have expected. His scarred, grizzled image, dual swords, and fiery base somehow come across as cute rather than intimidating.
Let it never be said that Good Smile Company doesn't do good work.
Despite CD Projekt Red closing the video game series with the final DLC in May of 2016, The Witcher series continues to have quite a bit of momentum. The series' spin-off game Gwent has launched into a moderately successful eSports franchise, Geralt is being featured as a guest character in SoulCalibur VI, and the series is getting a Netflix Original tv series.
So the time is absolutely right for a Geralt Nendoroid.
Now, we don't know if this is just a one-off creation, or if we'll be getting a line of Witcher Nendoroids, but we'd be pretty psyched to see the rest of the game's cast get the Good Smile chibi treatment.
More info, like pricing and pre-order availability, is yet to come.
Enjoyed this article? Share it!