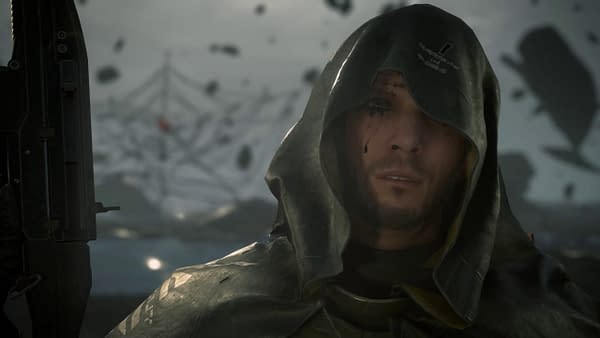 Are you a Death Stranding fan? Have you ever wondered what the game may have looked like if it had debuted years and years ago? Possibly on the MSX? One extremely talented fan has you covered.
Death Stranding – Low-Fi
This was, one of the best gaming experiences I've had this year, so I've decided to recreate the game in vintage graphics style :) @Kojima_Hideo @Kojima_Hideo @teejaye84 @Kaizerkunkun @KojiPro2015 @wwwbigbaldhead @DeathStranding_ #DeathStranding pic.twitter.com/zYrejTIjmt

— Fabricio Lima 🏳️‍🌈 (@NotFabricio) December 5, 2019
And unfortunately, there was no more time to work on the other characters :( I started the character rig for Heartman and Deadman, and had already finished Higgs… but, it will be next time :). @darrenjcbs @TroyBakerVA pic.twitter.com/9vEaWndHOV

— Fabricio Lima 🏳️‍🌈 (@NotFabricio) December 5, 2019
According to creator @NotFabricio, the animations took about 2 weeks, "more or less."
"It took around 2 weeks more or less, in between projects. I adapted character I had rigged, and made some alterations to suit each DS character :) The music took one weekend, since I am not experienced with music production," he said in response to a Twitter user's question.
"I also recreated the fantastic sound theme (composed by the genius Ludvig Forssell) in chiptune/8bit style. Tried to keep a bit closer to the MSX (the first console Kojima worked on) :)"
It's definitely an impressive project, even he did have some of the models already created and ready to go. Hopefully he's able to put together more of these awesome throwback images. I live for retro imagery like this, especially emulating the MSX's art style. It's only fitting, given Metal Gear's heritage, after all.
What do you think of this crafty fan's handiwork? Let us know in the comments below.
Enjoyed this article? Share it!