Katy Perry to Join Cast of Final Fantasy Brave Exvius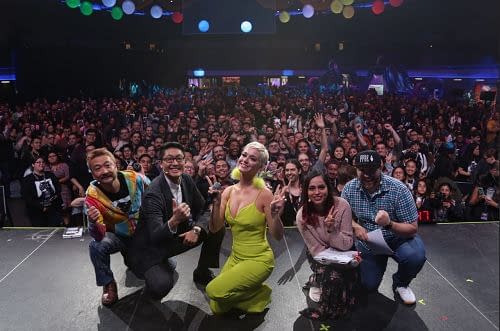 During the Final Fantasy Brave Exvius fan event this past weekend in LA, Square Enix announced the latest FFBE collaboration, which is with pop star Katy Perry. They also announced a limited time Kingdom Hearts event to coincide with the launch of KH3.
A summary of all the announcements is below:
Katy Perry Collaboration:

Music icon Katy Perry was personally on hand to reveal a new original song for the game titled, "Immortal Flame." She also will lend her likeness, appearing as multiple playable characters starting on December 12.
KINGDOM HEARTS

Limited-Time Event:

To help commemorate the upcoming launch of

KINGDOM HEARTS III,

Sora from the first

KINGDOM HEARTS

will be available as a unit that can be summoned for a limited time. The announcement trailer can be found

here.
FINAL FANTASY VII

Units:

New units from the celebrated RPG can be summoned soon. Tifa (monk) and Vincent (shooter) will be available to be awakened as 7-star units, while Barret and Caith Sith are also available. Fans can also keep an eye out for favorites Cloud and Sephiroth, who will be available to be awakened to 7-star rarity in the near future.

Winter Holiday-Themed Units:

Beginning on December 21 through the end of the month, players can ring in the holiday season with new units Tiana and Felix, who can be awakened as 7-star units. In addition, returning Holiday-themed units will be available to summon through a featured banner.

Google ID Log-in Integration:

Fans will soon have the ability to log-into the game through their Facebook account or Google ID.

New Gameplay Systems and Content in 2019:

Fans can look forward to a brand new gameplay system being implemented globally, as well as new original global units and more coming in the new year.
The Katy Perry collaboration hype trailer is below.