VR Shooter Gunheart Has New Mods, Weapons, and Game Modes Thanks to New Update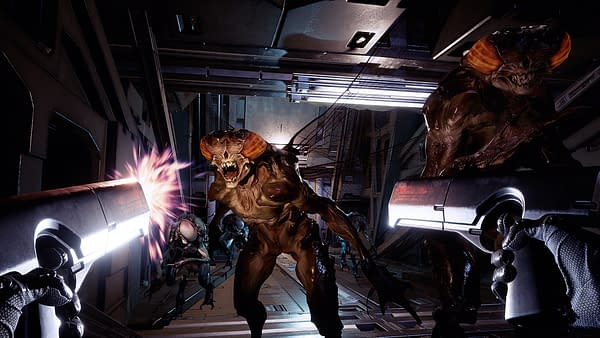 Drifter Entertainment has gone live with Gunheart's Winter Update, which brings new content to the VR co-op shooter. Gunheart entered Steam Early Access back in July of 2017 and has seen three previous updates since launch. The Winter update brings with it several weapon changes, bonus challenges, a new game mode, new social tool items, and even new emotes.
The weapon changes are two-fold. First off, all weapons now come with a progression system that allows you to unlock new abilities for your weapon by using them in combat. In addition, each weapon comes with a signature default modification that is applied as long as you have an open mod slot. That way, your weapons are now more useful the second you acquire them.
The full patch notes for the Winter update include:
Weapon progression: unlock new abilities for your weapons by using them in combat;
Default mods: all weapons now have a signature modification that is applied as long as you have an open mod slot, increasing their utility as soon as you acquire them and offering more options as you unlock additional slots;
Bonus challenges: new challenge system added to reward you with extra loot for completing the objectives across missions;
Survival Mode – Money pumps: game mode has been revamped to offer additional strategy and interaction for players. It's a great place to earn some extra cash + loot;
Hit reactions and death animations: the team has spent a lot of time improving the responsiveness of dealing damage to enemies, improving the overall feel of combat fairly dramatically. Weapons such as the shotgun now have a much more satisfying blast back when landing the killing blow on an enemy;
Combo weapon re-balance: we've loosened the consumption rate on ammo and increased the odds of finding ammo throughout missions to ensure you have more opportunity to utilize your combo weapons;
CPU Optimizations: an experimental object culling technique has been added to improve CPU performance, especially notable on CPUs that may be previously bottlenecked on single core performance;
Money/ammo/loot kegs can be blasted at other players, giving the rewards to that player instead of yourself;
New social tool items have been added.
Gunheart is currently available on Steam Early Access for Oculus Rift and HTC Vive. You can check out the latest updates in action below.