Wizards Of The Coast Publishes State Of Arena – "Magic: The Gathering"
Wizards of the Coast has published an article about the state of Magic: The Gathering: Arena, their digital interface for their world-famous trading card game. Within the "State of the Game" address, Wizards talks about the progression of Arena over the next few months to a year in time.
The first major update discussed in the article showcases Magic's next expansion set, Throne of Eldraine. It is due for a release on Arena that's a bit earlier than the tabletop counterpart – September 26th, to be exact. This is a piece of information that is set in stone (as you'll see, there are three states of definitive information for this "State of the Game" address – definite, likely, and conceptual – and this intel is in the first category).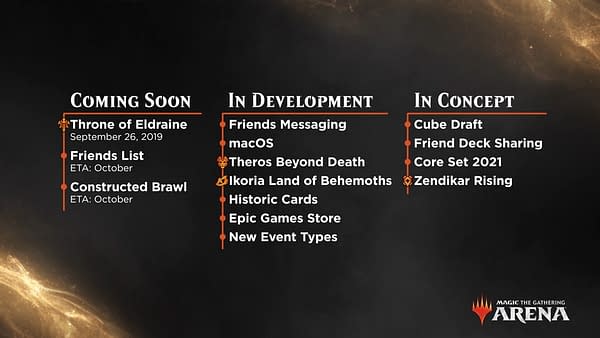 The developmental roadmap for Arena, shown above, explains the updates that are confirmed and/or considered for future release. The items "Coming Soon" are definite and have a very cut-and-dry release timeframe. The items "In Development" are being worked on and are slated to happen, but we as consumers don't know when yet. Finally, the items "In Concept" are being worked on with a logistical standpoint in mind, and some of these ideas aren't necessarily about to happen. We can extrapolate what things will happen for sure of the things in development and in concept (for example, the set releases are almost 100% assured, since they're pivotal to the progression of Wizards of the Coast's game – and Arena as well).
One of the biggest things to consider as a prospective player of Magic: The Gathering: Arena is that Wizards of the Coast is developing an interface that works with Apple's MacOS system. This will be a huge thing for Wizards, as it will draw in a lot of people from a whole other demographic of players (I've seen the Windows/Mac war firsthand and let me tell you, some of the fans of either interface are viciously proud of what they use).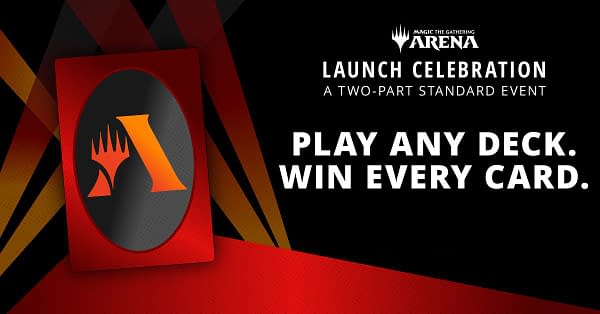 Finally, other events have been announced for Magic: The Gathering: Arena. The biggest one, known as the "Giant Opportunity", temporarily adds all four copies of all cards in Standard to each player's inventory. Each player has until September 25th to use these cards in an event – if they win this particular event with twelve wins and no more than one loss, they win the cards that they have temporarily gained permanently. Giant opportunity, indeed.
Magic: The Gathering: Arena is looking to be shaping up into a great interface. I know I was skeptical at first, but I really enjoy how it's handling! You ought to get on as well (provided you have the right operating system and such, of course), and play in the event that's up right now. Get to it!