YOU ARE THE SHARK: Maneater the Game Revealed at #E3
At last, someone has made my dreams come true in game form: Maneater, where you can play as a freaking bull shark. Revealed during the annual PC Gaming Show portion of E3, Maneater has everything, including a skill tree for the playable sea creature.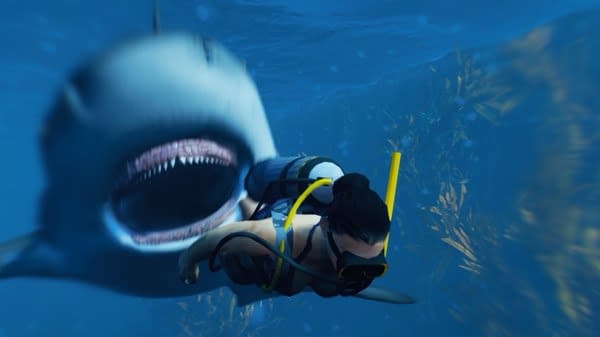 You were cut from your mother's body and left to die in the unforgiving waters of the Gulf Coast. Your only tools are your wits, your jaws, and an uncanny ability to evolve as you feed. Anything and everything is on the menu… provided you are able to kill it before it kills you.

Maneater is an Action RPG from the minds behind "Depth". Our goal is take the successful mechanics Depth established, and push the feeling of playing as a shark to new heights. While Depth was a multiplayer game, our focus with Maneater will be on developing a strictly single player experience that will challenge and engage the player from start to finish.
In a recent interview with Blindside Creative Director Alex Quick over on GameInformer, there were some additional details about what players can expect from the title, as well as the evolution for the shark.
There are two progression choices available to the player. The first is a choice of which "attribute" they put points in. There are five attributes: ferocity, perception, endurance, vitality, and agility. These attributes will affect the overall power level of the shark in different areas. For example, points in ferocity will increase critical damage output.

The second choice is which evolutions the player would like to equip. Evolutions are "upgrades" that will give the shark entirely new abilities or provide large stat bonuses. Evolutions are earned by killing things, and a limited number can be equipped at once. The player could choose, for example, between an evolution that allows the shark to use its tail like a whip to deal area of effect (AOE) damage, or one that causes the shark's bites to inflict deep bleeding wounds. The choices you make in the first system will affect the second. Assigning a large number of points in ferocity will allow you to equip more jaw/teeth evolutions, while putting points in endurance will allow you to equip skin/hide evolutions that would increase your survivability.
At present, there is no release date available for the title on Steam.