Remember how in November American Gods lost their showrunners Michael Green and Bryan Fuller and it looked real bad for season 2 of the STARZ series? After much debate and gnashing of teeth and such, it looks like the series has some direction for their second season. Neil Gaiman, the author and creative force behind the original source material novel, is coming on board to help steer the series, but maybe not like we thought he was, judging from his tweet AFTER we originally published the information available.
I'm already showrunning GOOD OMENS and I won't be physically showrunning two shows. But I plan to work really closely with the new showrunner, and to help plot and guide and build American Gods, just as I did when Bryan & Michael came on as showrunners.

— Neil Gaiman (@neilhimself) January 12, 2018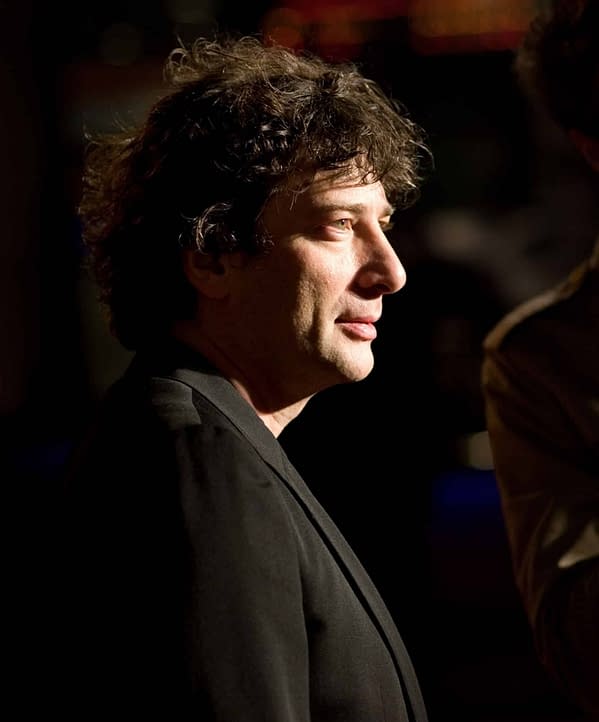 STARZ network head Chris Albrecht said:
"As you can see, we are having some trouble getting the second season underway. It's an incredibly difficult adaptation of a fantastic novel. It's why it took so long to make it to screen in the first place. Bryan and Michael, working with Neil Gaiman, have done a phenomenal job. Our partners at [production company] Freemantle are working with Bryan and Michael on their schedules, for a way for them to be involved.

Neil Gaiman will be taking more of a central role and moving forward into a more traditional showrunner function. And we're looking for a partner for him who can ensure that the television part of this gets appropriate attention."
Gaiman has been not-so-silent on Twitter when pointing out incendiary headlines claiming American Gods 'may be in trouble', calling them out not infrequently like this:
Ah, Betteridge's Law of Headlines strikes again: https://t.co/JOAthWY16s Headline: "Could 'American Gods' Be In Some Serious Trouble?" (answer: No) https://t.co/eyjkAtC6pK

— Neil Gaiman (@neilhimself) January 12, 2018
Albrecht said during the TCA that Green and Fuller "were not fired nor did they quit," which goes against pretty much everything that's been said publicly about the split.
"It's not an inexpensive show," Albrecht continued. "Budget is always a factor, although Freemantle has been really terrific in being willing to invest. This is really about, is there a vision that can be executed on a weekly basis? Obviously it's not ideal to have 18 months or two years between seasons. I think Freemantle needs to know that a formula where they can get the show on. And it might be that Michael and Bryan were doing, and their schedule, did not allow them to focus in a way that Freemantle wanted. Maybe not that specifically, but given everything that's going on, it seems like we're finally on the path to get this on track to a definite Season 2."
He also said that it was 'always known' that Gillian Anderson was going to leave the show, and that Kristin Chenoweth is still on board for to come back for season 2 as goddess Easter.
We'll let you know as more information gets made available, as this story is developing.
**UPDATE-
It looks like now Neil is putting the brakes on this story, saying in two tweets that the news being reported isn't factual, and that they're still looking for a showrunner:
It was. I suspect there's some crossed wires somewhere.

— Neil Gaiman (@neilhimself) January 12, 2018
We are in the process of finding a new showrunner (and very close to an announcement).

— Neil Gaiman (@neilhimself) January 12, 2018
Enjoyed this article? Share it!