Castle of Horror: Is Embrace Of The Vampire Actually Sexy?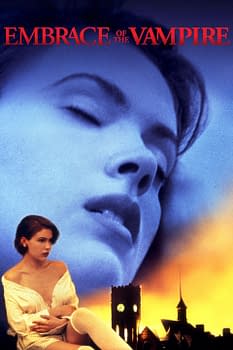 We continue our Sexy Vampire Retrospective with the 1995 vampire movie Embrace of the Vampire, directed by Anne Goursaud. The film stars Alyssa Milano as Charlotte, a chaste girl who is haunted by a vampire played by Martin Kemp, bassist of 80s New Wave band Spandau Ballet. But when we looked at the film we all found ourselves asking, is this movie, with its 90210-inflected 90s fashions and strangely demure orgies, sexy? Or is it just pretty commercial?
Listen here:
Listen on YouTube:
Check out the trailer:
And here's a song by Spandau Ballet:
Castle of Horror Podcast Links:
Join us over on Facebook to chime in.
The show is hosted here. Get our RSS Feed. Subscribe at iTunes. Listen on Stitcher. Or onYouTube.
Twitter: castleofhorrorp.
The Team: Hosted by Jason Henderson, writer of IDW's Ben 10 series and creator of the HarperTeen novel series Alex Van Helsing. Featuring Drew Edwards, creator of Halloween Man, Tony Salvaggio of Clockwerx from Humanoids, attorney Julia Guzman of Guzman Immigration of Denver, and Jamie Bahr, lead singer and upright bassist of the rock and roll band Danger*Cakes.