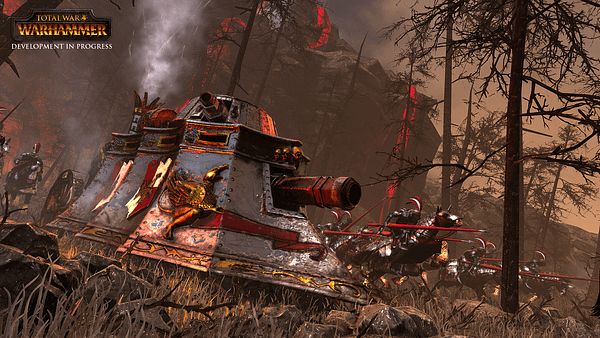 Madeline Ricchiuto writes from E3 for Bleeding Cool,
Total War has always been a massive RTS game and this new edition of it brings in the characters and lore of Warhammer. NotWarhammer 40K, the original Warhammer – just to be clear.
While the cinematic trailer is already out, the in-engine trailer is due to follow in July. Being a member of the press, however, I got to view some footage of the game in Alpha. While it was a pre-programmed sequence, the game does look pretty cool. It is still recognizable as a Total War title, with the massive battle fields and grand strategy campaigns, there is a lot of Warhammer to it. I can also confirm that the Greenskins will indeed be a playable race.
This edition of Total War includes a few new features: winged mounts, aerial and ground-to-air combat. While there are still "factions" they are instead divided by races rather than by era. Agents are also back, but are referred to as heroes in this installment and are very customizable.
Total War: Warhammer for those who aren't fans of Warhammer or Total War is basically just a high-fantasy massive scale RTS.
That being said, it is a massive scale RTS that included hand animation for certain effects, which is kind of awesome. Griffons, demigryphs, wyverns, giants, and wolves are just some of the creatures that were lovingly hand rendered by the designers and it shows. (There is also a steam tank)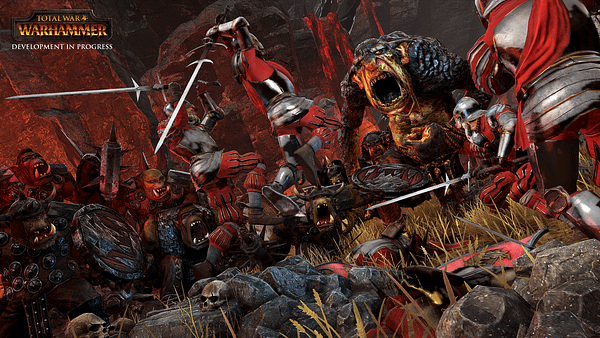 Enjoyed this article? Share it!