Alejandra Bodden writes;
Hello Whovian nation! I attended the 50 Years of Doctor Who panel on Saturday, and it didn't disappoint. The Panel consisted of: Ken Deep (moderator and co-host of the Doctor Who: Podshock international podcast) and panelists were: Andre Tessier, Barnaby Edwards (actor), J.K. Woodward (artist for the Doctor Who crossover with Star Trek), Deborah Stanish (writer and co-host of Verity Podcast), Graeme Burk (writer), Robert Smith (writer), Robert Hack (Comic book/sketch card illustrator), and Blair Shedd (comic book illustrator)- who joined the panel five minutes after and made the whole crowd raise their Sonic Screwdrivers.
Deep started with the biggest Doctor Who news of the week: the discovery of two new Patrick Troughton episodes from the 60's—all six episodes from THE ENEMY OF THE WORLD and five episodes from THE WEB OF FEAR. Both were found in Nigeria. Stanish said that THE ENEMY OF THE WORLD was the first Troughton episode she's seen and urged the crowd to watch it, too, because it was fantastic.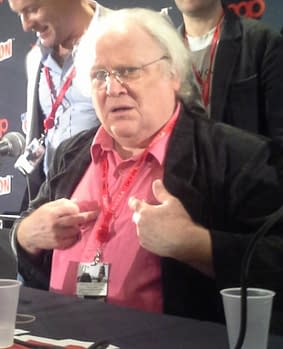 With only six weeks until the anniversary episode (THE DAY OF THE DOCTOR), which comes out on November 23rd, Edwards says he is very excited that everyone will be watching the episode at the same time, since it will be simultaneously broadcasted all over the world. Shedd said that he is happy to see the Zygons return, and that-from what he's seen- they look pretty similar to how they used to look before. Zygons were first introduced in 1975 on an episode called TERROR OF THE ZYGONS when Tom Baker was a Doctor. So far it has been the only episode they have been featured on, until now.
After a brief talk about all the Doctors, Deep expressed how nervous he was when Peter Capaldi was announced as the next Doctor and feared that people wouldn't be too open to accept him as such considering his previous' roles. He then compared Capaldi to Pertwee saying that people expeted Pertwee to play the Doctor the same way he approached his previous characters, which had been in the genre of comedy before them, but he ended up surprising all viewers with his performance—and that he thinks Capaldi will be as surprising in his approach as Pertwee was.
Right after the Jason Haigh-Ellery (Producer) and Nicholas Briggs (voice of Cybermen and Daleks). They spoke a bit about Big Finish and the Doctor Who audio dramas, which, surprisingly, is not as big here in the US as it is in the UK. They surprised the attendees by showing us a teaser of the next Big Finish production: THE LIGHT AT THE END, which will feature all first eight Doctors. It was fascinating and I cannot wait for it to come out already!
Briggs compared the process of production of creating a multi-Doctor episode to being pretty scary and much like a poison chalice, since everyone has very high-standards and the story doesn't deliver quite the same as a normal episode. He said it took a while and a lot of work to figure out a way of piecing all Doctors together; and that he is constantly fascinated by his own work seeing how he managed to put all Doctors together.
THE Coling Baker (a.k.a. the 6th Doctor) joined the panel then, about ten minutes before it ended. He was asked who was his favorite Doctor, to which he answered that he could not pick a favorite as much as he could pick a favorite hand, leg, ear, eye,… He said that he believes Capaldi to be a brilliant actor and that he has no doubt that he will do a beautiful portrayal of the character as every Doctor before him.
After being asked if he thought that playing another character on THE FIRES OF POMPEII would affect Capaldi's performance as the Doctor he replied that, before playing the Doctor he had played Commander Maxil on THE ARC OF INFINITY when Peter Davison was the Doctor. He then added "we are actors, and actors play tons of different characters."
This panel satisfied the Whovian in me in so many ways and just left me even more excited about hat is to happen in Doctor Who, both the tv show and the audio drama; not to mention that Colin Baker posed for me for a picture. I am so excited now.
Enjoyed this article? Share it!