Jude Law in Talks To Play Captain Hook In Disney Live Action Peter Pan
Jude Law is in talks to step into the boots of classic villain Captain Hook. The actor will front the live-action Peter Pan and Wendy film coming from Disney, under the direction of Pete's Dragon director David Lowery, from a script by Lowery and Toby Halbrooks. This one is expected to hit theaters and not go onto Disney+, with this one still a little ways away from going into production. This joins many, many other live-action films in development from Disney. Jude Law has worked with Disney in film before, appearing in Marvel Studios film Captain Marvel. Variety was the ones to break the news.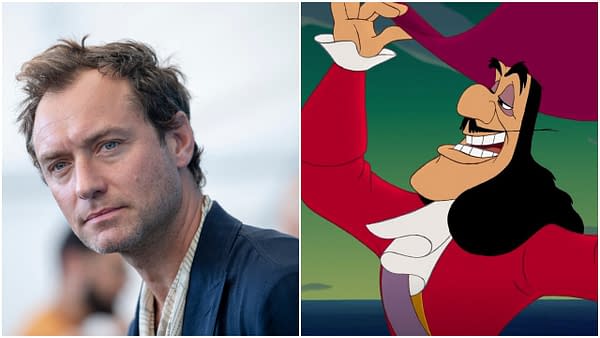 Yes, Another Peter Pan Film. Not Sure About Jude Law.
Yep, we are trying this again. As Variety points out, the most successful version of this to comes to theaters is still the 1958 animated Disney film. After many other tries from many other companies, why are we still trying this? If Hook couldn't work, with Steven Spielberg and an all-star cast, what is the point of doing it again? That original animated film still holds up, by the way, I recently rewatched it, and Disney really hit a home run with it back in the '50s. I know that the company is trying to remake its entire catalog live-action because it is easy money, but some of these did not need to be redone.
As far as Jude Law as Hook: I am not sure on that one. Dustin Hoffman was by far the best version of the pirate captain, and I am not sure Law can pull off…menacing? I know Hook is a buffoon, but in certain parts of the film, he has to present a sense of danger, and he might not be the one to do that. Also, he seems too short for the role. Who knows, I could be wrong. I guess we will have to see.