Yes, it's been awhile since we've heard anything about the ongoing saga of the Disney / FOX merger, but Marvel Studios boss Kevin Feige has some thoughts about it.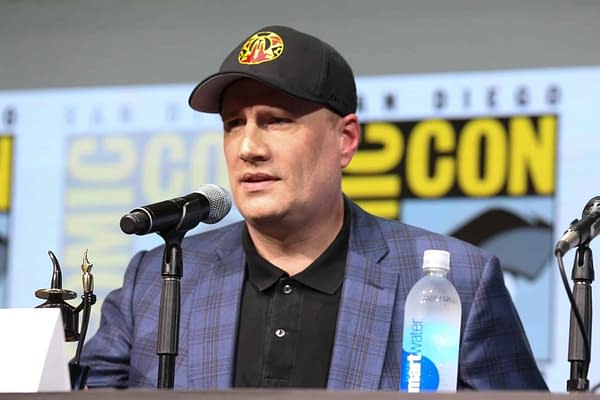 Sure, we've heard a few different times now what is on the horizon for the MCU [possibly] with the merger per Feige, but, this is a RECENT quote, and therefor worthy of noting.
In the recent The Hollywood Reporter producer's roundtable, THR inquired as to Feige's thoughts about the in-process merger, and how it would effect Marvel Studios:
THR: Kevin, what are your thoughts on the Disney/Fox merger and how it will affect Marvel?

KEVIN FEIGE: Well, it's not a hundred percent complete yet, so there's only so much I'm allowed to say, or so much they even tell me. But Paul mentioned the streaming service, and I think that is something that we're going to be adding content to, which is exciting. I love your analogy with the campfire, right? As many people as you can get around the campfire and tell stories. Campfires can be different: We are going to tell stories for the streaming service that we wouldn't be able to tell in a theatrical experience — a longer-form narrative, that's what comics are, it's about as longform a narrative as exists. But also maintaining that theatrical experience, which is our bread and butter, and the lines around the block, if you're lucky. Black Panther is not real, he is not a real person, but —

NINA JACOBSON: What? [Laughter.]

FEIGE: He represents real hopes and real dreams and real representation. And so there is a certain amount of pressure that came with that, delivering on what people had been dreaming about for years, whether they read the comic book or not. Because a lot of people said "Wait a minute, this is a hero that looks like me," and the importance of that really can't be understated. People get so excited to see themselves on that big screen, and you take that very, very seriously.
Needless to say, we'll let you know when we hear any official word on the status of the merger, and if/when it goes through.
What FOX property are YOU most interested to see fall into the House of Mouse? We're super trepidatious about Sir Ridley Scott's desire to make Disney Alien movies.
Enjoyed this article? Share it!