Samuel L. Jackson Remembers Stan Lee, Future MCU Cameos During 'Captain Marvel' Q&A
Samuel L. Jackson has fond memories Stan Lee and believes he will still be a presence in the Marvel Cinematic Universe, not only in spirit, but physical form.
Lee, who died on November 12th, 2018, was a staple in Marvel films with his cameos. His last physical Marvel cameo to date was in 2018's Venom for Sony.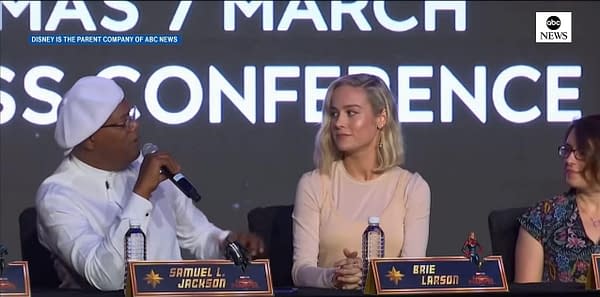 During a Q&A session for Captain Marvel broadcast on ABC, Jackson, who plays Nick Fury, offered a few comments about Lee and how it won't surprise him if Marvel finds a way to still put Lee in films through the process of 3D scanning. Disney owns both ABC and Marvel. It wouldn't be the first time Disney allowed a posthumous appearance of an actor with Peter Cushing, who died in 1994, and his CGI recreation in 2016's Rogue One: A Star Wars Story, coinciding with his physical presence in 1977's Star Wars: A New Hope as Grand Moff Tarken.
"[Stan]'ll be missed and I'm sure, well, the way they scan us, he might still end up in every Marvel movie we do. You'll be shocked. 'I thought he was dead. When did he shoot this?' They probably got a lot of stuff they can stick Stan in just because they scan the rest of us. If they scanned him anywhere near as much as they scan us…"
Brie Larson, who plays the title character, elaborated.
"There's a room that has like 100 cameras in it and it scans. It does like a 3D scan of your body like it could create like a hologram"
Jackson responded in shock that she wasn't supposed to reveal how the process is done before Larson shot back that he was the one who brought up the subject. They had a humorous exchange about violating Marvel's NDA.
"I just said they did it. I didn't tell them how they did it."

"Oh, sorry. Well, the Marvel ninjas are gonna come after me now."

"She's in trouble."
Jackson later mentioned how much of a direct impact Lee had in his life.
"I don't feel his spirit on set. We don't know when Stan's gonna be somewhere. I didn't know where he was in this particular film or when he was gonna show up for most of the other films either. Occasionally he might show up on set somewhere, um, but I've been reading comic books all my life, so Stan's been one of the great influences of, you know, my life in terms of who they are, how I feel about them, what I think they can do, what I think I'm capable of, and what it means to be on the inside playing particular characters."
Directed by Anna Boden and Ryan Fleck, Captain Marvel stars Larson, Jackson, Ben Mendelsohn, Jude Law, Djimon Hounsou, Lee Pace, Annette Bening, Gemma Chan, Algenis Perez Soto, Rune Temte, McKenna Grace, Kenneth Mitchell, and Clark Gregg. The film comes to theaters March 8th, 2019.