Mondo Music Release of the Week: Jurassic Park!
Mondo releases new vinyl special editions every single Wednesday. They are they ultimate edition of whatever they put out, featuring a limited-edition size, extensive liner notes, and brand-new commissioned artwork. The vinyl itself is usually colored or a photo disc, as well. Basically, it's like the Criterion Collection of movie and gaming soundtracks. This week sees the release of one of the best soundtracks of all time: John Williams's Jurassic Park score!
Welcome! In celebration of the forthcoming 25th anniversary of the cinematic masterpiece JURASSIC PARK, this week we're honored to present an all-new repress of John Williams' incredible score, available for the first time in several years.

Mondo is pleased to present a vinyl pressing for one of the greatest film scores of all time. JURASSIC PARK, Steven Spielberg's 1993 classic, is still thought of as one of the masterworks of blockbuster cinema, and the foundation for a franchise that continues to dominate today. But back in 1993, this collaboration between composer John Williams and Steven Spielberg was the next in line in a series of over a decade of fruitful collaborations that included such works as CLOSE ENCOUNTERS OF THE THIRD KIND, JAWS, E.T. THE EXTRA TERRESTRIAL, and RAIDERS OF THE LOST ARK.

This re-issue features original design and layout by JC Richard and is housed in a deluxe gatefold jacket. The 2018 re-issue is pressed on 2X 180 Gram Red and Yellow Swirl vinyl with Black Splatter.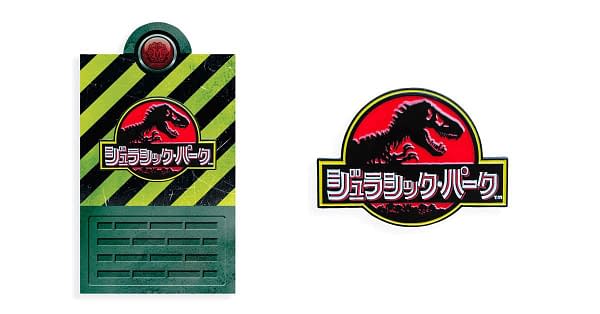 Also available is a cool new Jurassic Park Japanese Pin! That will run you $10.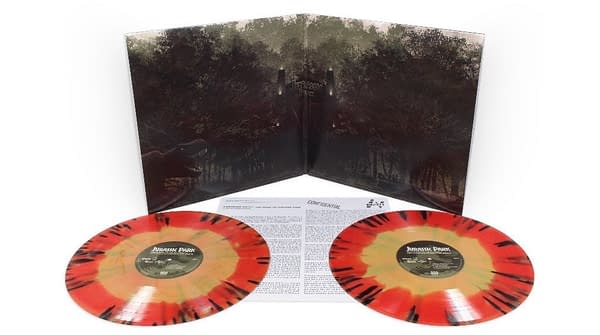 As with all Mondo releases, this will go up for sale on Wednesday at noon central time. The edition size for these releases are limited as always. This one will ship in June and costs $35. This is one of the best film scores that has ever been done, and if you missed it the first time this is a chance to right that! It is never worth risking waiting with these. You can grab a copy today right here.