By Timothy Carson
The panelists for "The Future of Gaming" discussion included: Garett Fuller, David Brevik, Michael Gluck, and James Schmalz. You might recognize David Brevik's name, as he's the man who brought us Marvel Heroes – the superhero answer to Diablo, which also happens to be a game Mr. Brevik's name has been attached to. Michael Gluck worked formerly for EA, and James Schmalz is affiliated with Digital Extremes.
In summary: they're experts.
The discussion for the panel took off rather quickly on the topic of virtual reality – a subject which has been on the gaming table for, according to Garrett Fuller, "since 1994." The biggest name to date in virtual gaming is a device known as Oculus Rift. Mr. Fuller himself tested the device, to which he described quite vividly to the audience as "a shocking hit to your senses."
David Brevik, however, chimed in shortly after, jokingly stating: "You look dumb wearing it," but admitted, "some trends in the video game industry come out of nowhere, but not with Oculus Rift. We've all seen it coming."
By "it," Mr. Brevik means the idea of virtual gaming itself – the notion of taking the controller from the gamer, and making the player, quite literally, their own controller. Personally, it's something I've been on the fence about. And, according to Michael Gluck, I'm not the only one:
"It is unknown whether consumers will adopt it [Oculus Rift]. Oculus Rift is the biggest force on the market right now. Gaming is a social activity, but is slowly becoming solitary."
David Brevik echoed Mr. Gluck's concerns: "I'm not sure I'd want to come home and put on a suit to play a game."
Garrett Fuller then directed the conversation towards a discussion between digital games and physical copies, which between all 3 panelists was a unanimous opinion – physical games are a rare and dying breed.
"Digital games are a dream come true," said David Brevik. "You can put the game on anywhere and be anywhere. There's so much fresh development in digital games in places like Russia and New Zealand. With digital downloads, we really are seeing the death of retail."
Michael Gluck responded to Mr. Brevik's statement by explaining, "Physical [games] are going to be for nerds like me, trading them at the Comic-Con."
It was an agreed upon belief that digital games are more economical, but the panelists also saw that digital gaming presents some problems.
"Anyone can do it," David Brevik explained. "It makes standing out in the masses of games very difficult."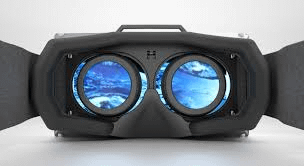 Personally, I am a fan of buying a physical copy of a video game, unwrapping it, and then reading through the instruction manual. I equate it to reading a physical book as opposed to a backlit screen on an eReader. But, that could just be because I'm a fan of Olivia Newton John's hit single, "Let's Get Physical." (That was a bad joke.)
Enjoyed this article? Share it!