The Storybook Romance Between John Cena and Nikki Bella is Over
It was a classic love story. Boy meets girl. Boy spends multiple seasons of two E! Network reality shows telling girl he never wants to get married or have children. Boy proposes to girl in front of enormous crowd at WrestleMania after defeating another couple in a tag team match.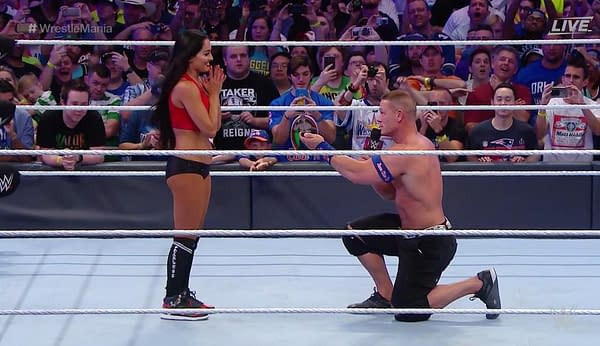 But just weeks before their planned May 5th wedding, John Cena and Nikki Bella have broken up.
Bella announced the news on Instagram:
It seems that Cena really is looking to leave the world of pro wrestling behind now that his Hollywood career is taking off. The news, unfortunately, spoils the ending of the upcoming season of Total Bellas, which teased relationship difficulties between the couple that, according to recent statements by Cena, they were working through.
Cena and Bella asked for privacy in the wake of the news, so of course it's all over every gossip site, with People Magazine offering a particularly salacious take. Cena, for his part, posted an inspirational message on Twitter on Monday:
Hardship, loss, and humility are extremely difficult waters to navigate, but perseverance thru them builds a strength to withstand anything life throws your way.

— John Cena (@JohnCena) April 16, 2018
All that Hollywood money probably helps as well.
It was probably for the best. Pro wrestling weddings usually end with someone getting bit by a snake, someone getting drugged and taken through a Vegas drive-thru chapel on the night before the wedding, a manager revealing the whole thing was a publicity stunt, or Stone Cold Steve Austin stunning the entire wedding party.